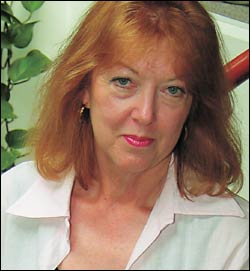 Assoc Prof Jennifer Roeleveld.
Associate Professor Jennifer Roeleveld, head of the taxation section in the Department of Accounting, has been selected as the South African national reporter for the International Fiscal Association Congress in Buenos Aires in 2005.
Roeleveld represents UCT, which she enrolled as a corporate member of the South African Fiscal Association (SAFA) that, in turn, secures membership of the International Fiscal Association (IFA).
Her topic will highlight taxation as it applies to international business acquisitions. Roeleveld's report must be completed and submitted to the IFA by October 2004, to be published in the annual Cahiers de Droit Fiscal International. The subject will then be debated at the IFA congress in the Argentinean capital in 2005.
These annual congresses provide opportunities for delegates, often experts in the fiscal field, to exchange views and knowledge on fiscal law. These meetings attract some 1 000 to 1 500 participants from 85 countries.
Taxation is no longer a topic confined within countries' borders, and it is one of Roeleveld's initiatives to increase the international profile of taxation in the accounting department. Roeleveld, a chartered accountant, has been at UCT for 11 years, working solely in the tax arena. She completed her honours in tax in 1994 and her LLM (master's in law) in 1995, both at UCT.
The 10 000-word paper for the IFA conference is what Roeleveld lightly terms "heavy". But it's not the length. In tackling the subject, the author must be mindful of the international tax aspects as they relate to South Africa and the ever-changing nature of tax. Colleague Craig West will assist Roeleveld with the writing.
"In tax, it's too dangerous to write alone anymore. There are just too many changes for one person to keep tabs on."
Roeleveld is also determined to create a name for UCT in the international tax arena. She is mapping the contours of a proposed new international tax course at UCT, which she hopes to launch next year. This course will build on the successful tax honours programme, which is regarded as "one of the best in the country", highly rated by the accounting and legal firms that steer their staff to upper campus.
To step up research output in the tax field, she also plans to launch a journal that will be refereed by local and international specialists.
"We don't have enough suitable journals in which to publish our material and research," she commented.
---
This work is licensed under a Creative Commons Attribution-NoDerivatives 4.0 International License.
Please view the republishing articles page for more information.
---