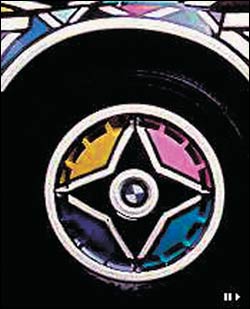 Wood engravers
An exhibition of 100 wood engravings by 50 of the world's best-known engravers, is on at the Irma Stern until November 21. The International Society of Wood Engravers has brought the exhibition to South Africa from the United Kingdom. Works will be for sale. Interest in the art was revived at the turn of the 1900s and solidified in the birth of The Society of Wood Engravers in 1920. The founders included Robert Gibbings, Lucien Pissarro, John Nash and Gwen Raverat. The craft enjoyed much success in limited edition prints and private press books in the years before the Second World War. In the 1970s, however, the society faded somewhat, succumbing to the screen print. But the persistent appeal of wood engravers saw a revival in the 1980s as a younger generation of engravers took up their tools. (Opening hours are from 10h00 to 17h00, Tuesday to Saturday.)
Esther Mahlangu
She first hit the headlines with her creation of an African Art Car, a BMW 525i that she transformed into a "masterpiece" of Ndebele art, but Esther Mahlangu's work, strident Ndebele murals transferred to canvas, needs little introduction.
"My art has evolved from the tribal tradition of decorating our homes," said the traditional artist who is holding her first solo exhibition at the Irma Stern Museum, until November 22.
Mahlangu uses eclectic but traditional painting techniques: feathers, twigs and bundled twigs double as brushes to transfer the natural pigments and paints to surfaces.
Unlike many South African tribes, the Ndebele have preserved their traditions and their art forms are centuries old. The wall decorations are painted solely by women and are bound to ritual ceremonies. The techniques and motifs of the murals are passed on from mother to daughter and Mahlangu says she learnt her skills from her mother and grandmother.
She draws freehand, rendering her abstract geometric shapes and highly stylised objects in bright vinyl paints, lending her frescoes "extraordinary vigour".
Mahlangu has exhibited around the world, including Japan Finland and America, and her work graces numerous private collections in South Africa and abroad. She has received numerous awards, the most recent being the Arts and Culture Award in 2001. With her BMW Art Car, she established herself as the first woman on the list of international Art Car artists.
---
This work is licensed under a Creative Commons Attribution-NoDerivatives 4.0 International License.
Please view the republishing articles page for more information.
---