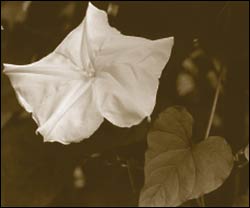 Potentially fatal: The moonflower's active ingredient, scopolamine, inhibits certain nerves controlling internal organs.
Student Psychological Services (SPS) has issued a warning to students not to dabble in the use of moonflowers, which can cause severe illness or even death.
This follows an incident in mid-October when a student from Leo Marquard was admitted to Groote Schuur Hospital after he was seen "talking to himself" and "behaving strangely". The student, along with friends, had been ingesting a tea of "moonflower", an exotic toxic plant, which is being used among South African youth for its hallucincinogenic effect.
Although there is confusion about the way in which the plant is ingested, it seems that parts of the plant and seeds are boiled so that the extracts can be drunk. Many users are unaware of the potential effects.
The active ingredient, scopolamine, inhibits the action of certain nerves that form part of the system that controls the functioning of internal organs such as the lungs, heart, veins and glands.
Symptoms usually last 24 to 48 hours, and include dilated pupils, a rise in body temperature, convulsions, hallucinations, staggering, dizziness, memory loss, slurred speech, agitation, confusion, dry mouth and nausea.
In a memo, Student Psychlogical Services said: "In severe cases such as the one presented to SPS, admission and restraint is required. The deleterious effects of this poison should not be underestimated even though it is readily available. It may result in students becoming very ill, psychotic and in need of hospitalisation. It is potentially fatal."
---
This work is licensed under a Creative Commons Attribution-NoDerivatives 4.0 International License.
Please view the republishing articles page for more information.
---