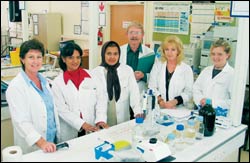 Green light: The pharmacology laboratory has received prestigious South African National Accreditation System (SANAS) accreditation. Among those on the team are (from left) Jean van Dyk, Faldiela Clark, Afia Fredericks, Ludvig Heiberg, Alicia Evans and Jennifer Norman. (Not in the photograph: Sumaya Salie, Noor Salie, Dr Stephen Cridland, Prof Peter Smith.)
The Pharmacology Laboratory housed in the Department of Medicine has received a thumbs-up from the South African National Accreditation System (SANAS), assuring the facility international acceptance and global recognition of its drug testing results.
The endorsement is important news for university research groups involved in drug development as the medical laboratory is keen to extend these services to UCT researchers working in the field.
Among other things, the Pharmacology Laboratory provides a therapeutic drug monitoring service to Groote Schuur Hospital (GSH) as well as surrounding associated academic hospitals, such as the Victoria and Red Cross Children's Hospitals.
"We operate by using various routine testing instruments, providing the usual therapeutic drug tests for common antibiotics and immunosuppressants," said quality manager Jennifer Norman. (Immunosuppressants suppress the body's immune system to stop it rejecting grafts or transplants. Immunosuppressants also control autoimmune diseases where the body's immune systems act against one of its own cells or tissue.)
Norman, a UCT master's graduate in pharmacology, was enlisted to take charge of the pharmacology division's quality assurance portfolio, extending her service to the unit that began as a part-time assistant while she was an undergraduate student.
The facility has also developed considerable capacity in the development arena, to create tests for drugs that have not yet been routinely monitored. Presently, the laboratory is the only facility of its kind in Africa to offer assays for Sirolimus, a new immunosuppressant.
The SANAS accreditation means the laboratory has satisfied stringent ISO 17025 criteria, the latter a quality management system designed specifically for testing laboratories worldwide.
SANAS is the South African representative of two internationally recognised quality organisations: the International Accreditation Forum (IAF) and the International Laboratory Accreditation Co-operation (ILAC). "Since the quality of test results is becoming increasingly important, the division decided to push for SANAS accreditation," Norman added.
This required five "gruelling" months of writing standard operating procedures and training staff in quality standard manuals, policies and procedures. After two days of intensive interrogation and observation, the laboratory got the green light from officials and was recommended for accreditation.
"What this means is that all the results produced by our laboratory are subject to internal quality assurance procedures, verified by external quality assurance testing and performed according to stringent turnaround times," Norman explained.
She is particularly proud of the achievement, "no mean feat" for an academic-cum-state institution, she added. "With a team of ten, including only six staff from the Provincial Administration of the Western Cape (PAWC), we managed to pull off a remarkable triumph."
The new ethos required by the quality system resulted in a change in the team's mindset, Norman added. "We had to get used to the rigid system of documenting, dating and signing everything."
The laboratory's accredited assays (qualitative and quantitative analyses of a drug to determine its components) include routine laboratory, High Performance Liquid Chromatography (HPLC) and Liquid Chromatography Mass Spectrometry (LCMS) methods.
The HPLC system, which is being used to test the Sirolimus drug, is coupled to a mass spectrometer, a state-of-the-art machine that allows technicians to develop faster and more sensitive assays.
In future, the laboratory's academic research will centre on their LCMS expertise as well as new assays or analyses for therapeutic drugs. Norman said the laboratory was keen to offer these services to UCT researchers in drug development and plans are already afoot to purchase a new higher powered tandem mass spectrometer.
"We are already collaborating with various Medical Research Council (MRC) investigators locally and nationally, as well as with research groups from abroad," Norman continued.
The laboratory is currently collaborating with a pharmaceutical company in Pakistan to test their product for registration with the Global Drug Facility, an international organisation committed to increasing and ensuring access to high quality tuberculosis TB drugs.
Seven years ago, under the umbrella of its Pharmacokinetic Research Unit, the pharmacology division began performing clinical and laboratory work under contract to the South African MRC for pharmaceutical companies and the World Health Organisation (WHO), under the direction of UCT's Professor Peter Smith.
Clinical studies in patients with tuberculosis were initiated at DP Marais Hospital and the clinical research division was relocated back to GSH with its access to growing patient and healthy volunteer databases.
In 1998 the laboratory was awarded the status of being one of two WHO recommended centres in the world for testing the TB drug rifampicin. Last year the facility began its push for ISO 17025 accreditation. Good news is that the laboratory's work will soon move into the arena of anti-retrovirals.
"TB is an opportunistic infection, so coupled with the reduced immunity of HIV, the incidence of TB is high in these individuals," Norman elaborated. "With the high drug burden from anti-retrovirals and TB medication, researchers are concerned about the reaction between these drugs, which may inhibit or enhance an enzyme that might break down the drugs faster. We will be researching these effects."
The laboratory's services also include:
consultation with regard to ethics, clinical pharmacokinetic studies, quality systems (ISO 17025, Good Clinical Practice, Good Laboratory Practice)
quality and clinical auditing
laboratory assay development and validation
clinical study planning, performance and reporting according to various regulatory requirements
pharmacokinetic study protocol development
case record form design
statistical analysis of pharmacokinetic data with special reference to bioavailability and bioequivalence studies.
---
This work is licensed under a Creative Commons Attribution-NoDerivatives 4.0 International License.
Please view the republishing articles page for more information.
---