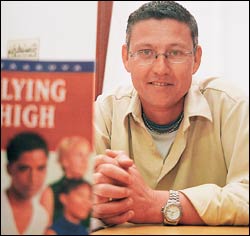 Word power: Assoc Prof Russell Kaschula has released Flying High, part of the high-flying Siyagruva series of novels for South African teens.
Ballroom dancing, a jaunt to the United States, romance and sexual discovery drive the action of
Flying High
, a new teenage novel penned by UCT's Associate Professor Russell Kaschula.
Kaschula, based in the African Languages and Literatures Section within the School of Languages and Literatures, celebrated the launch of the book at the
Turning the Page - New Writers' Exhibition
at the Centre for the Book in Cape Town on Heritage Day. The novel is the sequel to his
Divine Dump Dancer
, which was released in mid-2002.
Both books form part of New Africa Books' 12-title
Siyagruva
(a term, meaning "let's groove", coined by Kaschula) series, aimed at young South African readers.
Flying High
was but one of four
Siyagruva
works - the last in the series - released at the Centre for the Book exhibition.
Boy in da City,
co-written by Kaschula and the three other original series contributors (Robin Malan, Colleen Moroukian and Anne Schlebusch) under the pseudonym Rusleen Malbusch, was another title launched at the event.
In
Flying High
, four of the characters that starred in
Divine Dump Dancer
win a trip to a dancing school in the United States. The trek to and sojourn in the United States act as the backdrop against which Kaschula explores issues of love, sexuality and adolescent confusion.
"The whole aim was to make the series relevant to young people," said Kaschula. "So in the series we've looked at teenage pregnancies, HIV, sex, and all the other issues that affect young readers."
As with the first book, Kaschula is sticking close to the exacting stylistic demands of the teenage genre. "The books have to be snazzy and hip and something that teenagers would want to read," he noted.
While the initial plan had been to publish only 12 novels, New Africa Books have been so taken with
Siyagruva
's sales that they will publish a further four titles per year as of 2004. Kaschula, Malan, Moroukian and Schlebusch will in all likelihood pass the writing mantle on to new scribes.
"We had hoped that the series will grow new talent," said Kaschula. And in that regard,
Siyagruva
has already recorded some success.
Contributor Nokuthula Mazibuko, for example, won the R100 000 Bessie Head writer's fellowship for the legwork she will be doing for six new stories to be published in the Sunday Times.
And Kaschula is pretty happy with what the series is achieving. "We wanted to get young people to read," he said.
"And according to the public library in Bellville, the books are so popular that they can't keep up with the demand."
---
This work is licensed under a Creative Commons Attribution-NoDerivatives 4.0 International License.
Please view the republishing articles page for more information.
---