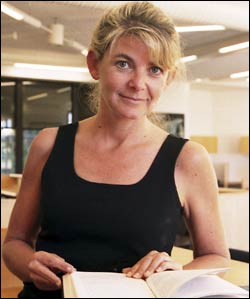 Legal Bookworm: Amanda Barratt pictured in the Brand van Zyl Law Library shortly before she delivered her presentation to the International Association of Law Libraries' (IALL) conference delegates.
Eighty-six librarians and lecturers from law schools across the world met in Cape Town for the 22nd annual conference of the International Association of Law Libraries (IALL).
Held in Cape Town for the first time and hosted by UCT's Breakwater Campus from September 21-25, the conference, entitled New Rights - New Laws: Legal Information in a Changing World, focused on South Africa as an example of a legal system in transition.
According to Amanda Barratt, head of UCT's Brand van Zyl Law Library and a member of the IALL's local organising committee, there were three main themes for this year's conference: law and social change; rights and law; and South African law and legal literature
.
"The conference is the IALL's main meeting and educational event of the year," said Barratt. "Together with high profile speakers, several academics and librarians from UCT and the Universities of the Western Cape and Stellenbosch also presented sessions."
Representing 20 countries, the participants were treated to an address by Constitutional Court Judge Kate O'Regan.
O'Regan's talk reflected on the past 10 years of South Africa's Constitutional Court and presented interesting facts and figures, which prompted many questions from the audience.
She pointed out that in 1994 there were only three black men, no black women and two white women judges in South Africa. By 2003, these figures had risen to 61, 12 and 13, respectively.
Participants displayed a desire to come to grips with the South African legal system and questioned O'Regan on practicalities such as the duration of judges' terms of office and how constitutional court judges were appointed.
Other speakers included Judge Dennis Davis of the Cape High Court; Mary Burton, a former truth commissioner; Zackie Achmat of the Treatment Action Campaign; Advocate Rashida Manjoo of the Gender Commission; and Geoff Budlender from the Legal Resources Centre.
UCT's law faculty hosted the delegates on September 24 where Barratt delivered a presentation entitled New Rights - New Laws: South African Legal Literature in a Time of Transition, which examined how and why South African legal literature has changed since the 1990s.
Once work was out of the way, the delegates took in all that Cape Town had to offer, including trips to Table Mountain, Robben Island, Boulders Beach and the Winelands.
---
This work is licensed under a Creative Commons Attribution-NoDerivatives 4.0 International License.
Please view the republishing articles page for more information.
---