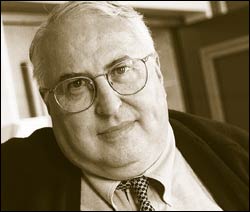 The Holocaust in history: Prof Steven Katz, a recent visitor to the Kaplan Centre for Jewish Studies and Research, argues that the Holocaust is a unique event in history.
The Kaplan Centre for Jewish Studies and Research recently hosted a two-week visit by celebrated American academic and writer, Professor Steven Katz, one of a growing band of scholars who are arguing that the Holocaust is a unique historical event, rather than just another - albeit extreme - episode of anti-Semitism and genocide.
Katz, director of the Centre for Judaic Studies at Boston University in the United States and a regular visitor to UCT, was in Cape Town to, among other things, lecture in the Kaplan Centre's postgraduate course on The Holocaust and Mass Death. In addition to lecturing at UCT, he also presented the Cape Town Holocaust Centre's annual Ernest and Renee Samson lecture.
While at UCT, Katz was also able to talk about his ongoing work on his four-volume The Holocaust in Historical Context, in which he compares the Holocaust to other genocides and mass murders. The debate - between two opposing schools of thought - around the special nature of the event is one that has been raging since about the end of the Second World War, Katz pointed out.
"There's an argument, especially by those from the religious, orthodox tradition, that the Holocaust represents just another outbreak of anti-Semitism, that even though it was bigger, qualitatively it was the same."
Holocaust survivors and a growing number of scholars, however, have a different take on the issue. "They insist that that isn't true, that something very special happened here," said Katz.
Unlike other tyrannies, where the aim is to subjugate, the goal of the Holocaust was to annihilate.
"The essence of the Holocaust was to murder all the Jews of the world, to make the world free of Jews, or Juden-rein.
"When one talks of the special character of the Holocaust - at least as I talk about it - I never mean morally, because there are all kinds of people suffering and I don't know how to quantify suffering and quantify evil. I talk about it phenomenologically, in terms of its structure, its shape, its governing ideas, its bureaucracy, its theologies."
The closest historical counterpart to the Holocaust, noted Katz, was the 1994 Rwanda genocide.
---
This work is licensed under a Creative Commons Attribution-NoDerivatives 4.0 International License.
Please view the republishing articles page for more information.
---