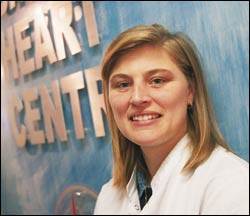 New research: Dr Sandrine Lecour from UCT's Hatter Institute for Cardiology Research offers new insights for the protection against heart attacks.
Heart attacks remain a major cause of mortality in developed countries and are predicted to become a severe threat in South Africa in the next few years.
Tucked away in a laboratory on the health sciences campus, Dr Sandrine Lecour, a Claude Harris Leon Foundation Fellow, works steadily at trying to prevent the killer disease, which accounts for approximately 20% of all deaths per year in South Africa.
Lecour, from UCT's Hatter Institute for Cardiology Research, is investigating a new therapeutic approach that will counter the lack of blood flow (ischemia) that causes heart attacks.
With the heart acting as a pump, supplying blood to the body, and the coronary arteries responsible for supplying oxygenated blood to the heart tissue, a myocardial infarction (MI) or heart attack occurs when there is a blockage in the narrowed arteries.
Due to the lack of oxygenated blood supply to a particular area of the heart, known as the ischemic area, there is an increase in cell death in this area after a heart attack.
The expansive area containing the dead tissue is known as the infarcted area.
It is well known that preventative measures to protect the heart include not smoking, getting plenty of exercise, following a Mediterranean diet rich in olive oil and fresh vegetables, and drinking red wine in moderation.
But for Lecour, who is supervised by Professor Lionel Opie, another way of protecting the heart is through the organ's own self-protective system involving the phenomena of preconditioning.
"Preconditioning is a process whereby a short period of ischemia actually protects against much more severe ischemia observed in heart attacks," she explained. "This paradoxical protection system in the heart appears to be more efficient than other ways of protection, including new individual drugs."
According to Lecour, the concept of ischemic preconditioning came about in 1986 when it was observed that a short period of lack of blood flow prior to a major ischemia actually resulted in a decrease in the number of dead cells in the infarcted area.
It has been shown that there are two windows of opportunity in administering the preconditioning stimulus (either an ischemic or a pharmacological precondition).
Lecour said: "Less than four hours before the ischemia is the ideal time for the preconditioning stimulus. This period is known as classic preconditioning. Between 24 and 72 hours before the ischemia is another window of opportunity and this is known as late preconditioning."
In between four and 24 hours and after 72 hours, the preconditioned ischemia offers the organ no protection against a heart attack.
Trying to better understand this process, Lecour's investigations reveal that preconditioning invokes a programme that activates the immune system in the heart with the presence of a cytokine called Tumor Necrosis Factor alpha (TNF8).
A cytokine is a regulatory peptide and includes the interleukins and lymphokines, which are released by cells of the immune system and act as intercellular mediators in the generation of an immune response.
"Previous studies have shown the harmful effects of TNFa in the heart," said Lecour. "In the mind of cardiologists, when TNFa is present in the heart it is associated with cell death and inflammation and it is therefore thought to be a bad compound.
"But we have shown that TNFa production may actually be necessary for the heart," she added.
Understanding the exact role of TNFa in conferring cardio protection may lead to the identification of novel therapeutic targets for the management of heart attacks, Lecour said.
In an attempt to test her hypothesis that TNFa is a cytokine that can precondition the heart, Lecour found that when a specific dose of the peptide was administered during the first window period, it led to a decrease in the amount of cell deaths in the infarcted area.
"We can therefore conclude that low doses of TNFa (0.5 ng/ml) can confer cardio protection and that it does precondition the heart."
Exactly how and why this reaction occurs is the topic of continued research for Lecour, who started working on this project in 1999.
"The paradox of the presence of TNFa could be the reason why previous clinical trials using TNFa antibodies against heart failure have not been successful. It is important to keep a small amount of the cytokine present so that the heart will remain protected," she said.
Born and bred in Lausanne, Switzerland, and having lived in Dijon (famous for its mustard and wine), France, Lecour has always had a burning desire to conduct research.
"I'm a doctor of pharmacy by training, but since my first year I always knew I wanted to do research," she said.
Having completed a PhD in cardiovascular physiology and pharmacology in September 2000, the quality of research being conducted at UCT as well as the outdoor lifestyle and beauty of the Cape were major draw cards for the researcher.
"My grant ends in December but there is still a lot of work to be done, so I hope to end up staying a bit longer - which I don't mind at all."
---
This work is licensed under a Creative Commons Attribution-NoDerivatives 4.0 International License.
Please view the republishing articles page for more information.
---