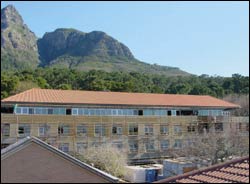 Going up: The new chemical engineering building on upper campus is on track for the relocation of the department by the end of 2003. Although initially a disruption, the construction of the building has proved to be a useful on-campus teaching tool for civil engineering students.
With a fully-fledged construction site right on their doorstep, second- and third-year civil engineering students have had the opportunity to grapple, first hand, with project management and material issues.
Using the construction site of the new chemical engineering building as a teaching aid, structural engineering senior lecturer Dr Alvin Masarira has ensured his students have gained a better understanding of everyday structural and utilities problems.
"Visits to construction sites are usually expensive, with transportation costs being our biggest headache," said Masarira. "But with the chemical engineering building being constructed right here, I didn't need to take my students anywhere else.
"Initially, the construction was a big inconvenience for the civil engineering department; we had to relocate and deal with the noise. After a while I realised it was actually an advantageous situation having a fully functioning facility right under our noses," he added.
His students were able to develop their problem-solving skills by being exposed to common construction difficulties, such as delays due to material shortages and bad weather, as well as people management issues.
Besides the second- and third-years, about 50 enthusiastic high school learners visited the construction site during the engineering faculty's Discovery Week, held from June 30 to July 4.
With many of these learners having had very little exposure to civil engineering, Masarira believed it offered them an opportunity to experience the practical side of the discipline.
"The building is designed to use different materials such as steel, concrete and bricks, and the learners were able to see just how these different materials are actually used in the construction process.
"The site visits also act as a learning process when it comes to health and safety matters. There are real dangers on a construction site and the only way to teach students about these is to physically point them out," Masarira said.
---
This work is licensed under a Creative Commons Attribution-NoDerivatives 4.0 International License.
Please view the republishing articles page for more information.
---