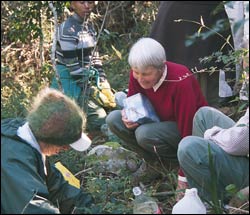 In memoriam: Margaret Elsworth (middle) at the tree planting in Newlands Forest.
Family and friends attended a tree planting ceremony, held in memory of Dr Jack Elsworth, on Tuesday August 5, when 10 yellowood, stinkwood and other indigenous trees where planted in Newlands Forest.
Elsworth, a retired chemistry lecturer, passed away suddenly at the age of 74, after contracting a rare form of septicemia.
Reportedly a great believer in returning nitrates back to the soil, Elsworth expressed a wish to be buried in the forest under a yellowood tree wrapped in white cloth.
He wrote to many newspapers and authorities in order to bring this about, stating that his remains would aid the growth of a tree.
During his academic career Elsworth taught at UCT where he met his wife, Margaret. He also lectured at the University of Arizona in the United States and the universities of Swansea and Sussex in the United Kingdom.
As a chemistry lecturer, he taught all medical students who graduated from the UCT from the 1960s to the 1990s.
Elsworth, who was probably most popular for his lectures at UCT's Summer School, remembered the names of all his students even though his lectures were sometimes packed with 150 eager participants.
Many of his past students paid their last respects at the funeral service, which was held at St Paul's Angligan Church in Ronderbosch.
Elsworth leaves his wife and their five children, Christopher, Barbara, Sandy, David and Elizabeth, as well as their 10 grandchildren.
---
This work is licensed under a Creative Commons Attribution-NoDerivatives 4.0 International License.
Please view the republishing articles page for more information.
---