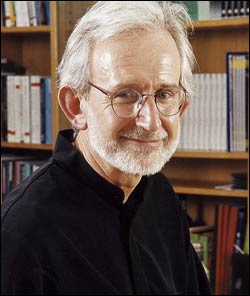 New relationships: Deputy Vice-Chancellor Prof Martin Hall, whose office will be conducting the responsiveness and engagement audit together with the Institutional Planning Department.
UCT is planning an audit of its current teaching, research, community service and policy engagement facets of operation aiming to enhance the institution's responsiveness to local and regional development priorities.
The initiative is also a response to new national higher education policy.
Although the university produces annual teaching, learning and research reports, the more applied and responsive dimension of its teaching and research work is less visible and not well documented, said Deputy Vice-Chancellor Professor Martin Hall.
"We hope that such an audit will help UCT to generate baseline data that will provide indicators of 'best practice' to support and sustain a responsive and engaged university, as well as suggest targets for improvement."
Annual reports on social responsiveness would be produced in future, he added.
Research and faculty reports indicate that many people are involved in work that aims to facilitate "a new relationship" between the university and a wide range of off-campus stakeholders.
"The Senior Leadership Group has identified a number of objectives aimed at enhancing UCT's responsiveness in relation to local and regional development priorities," Hall added.
In addition, Senate has approved a new basis for the UCT job description, one that includes a distinct category for social responsiveness, in conjunction with teaching, learning, research, administration and leadership.
In future, responsiveness and engagement will represent a dimension of individual performance measures in the new Rate for the Job performance review process.
"We need to find ways to better understand the definitions that people bring to this aspect of their work," Hall noted. "We also need to appreciate the conditions under which they are doing this - and here we refer to both the facilitating and constraining factors involved - so that we can develop strategies for strengthening this facet of our work."
The audit will be conducted by Hall's office, in conjunction with the Institutional Planning Department. It will be distributed to all deans, heads of department, research unit heads and other staff who responded to the Service Learning survey conducted in 2000.
The audit will be sent out on August 11 and should be returned by August 25 to Bafe Morake at
bmorake@ ched.uct.ac.za
. The results will be included in a responsiveness and engagement report.
(For more information, contact Judy Favish, Institutional Planning on ext 2180/2179 or Janice McMillan, CHED ext 2894.)
---
This work is licensed under a Creative Commons Attribution-NoDerivatives 4.0 International License.
Please view the republishing articles page for more information.
---