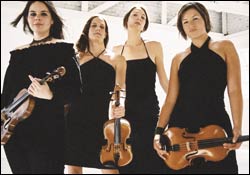 Bending the rules: UCT's Muse String Quartet (from left) Larah Eksteen, Olivia van Gass, Carol Schutz and Annemi van der Merwe. (Catch them on Wednesday nights at the Cape Grace Hotel, 19h30 until the end of November.)
By day, they pour over classical scores at one of the country's finest music schools, studying Elgar, Schubert, Bach and Mendelssohn. But by night the all-girl ensemble is féted at the trendiest hotspots of the beau monde; the darlings of cliques and clubs, the toast of fashion shows and launches, and celebrities at the best supper parties in Gauteng. Take a bow, Muse String Quartet.
A short six months ago, the UCT-based group "rid themselves" of all traditional and expected performing etiquette by branching into an amplified version of a string quartet, the first of its kind in South Africa. And as one of the few all-girl string quartets in the country, the group has developed a trademark image and sound that has seen them on stage before a 7 000-strong audience at the opening of the Cape Town International Convention Centre, a lead-in for electric violin icon Vanessa-Mae. They also inspired an appreciative audience at the more recent SABC2/Shoprite/Checkers Woman of the Year awards at the end of July.
The quartet has its home on campus. Violinist Larah Eksteen (24) completed her BMus at the University of Pretoria and is doing her master's in chamber music here. She is also the group's composer, writing original works to bolster their repertoire. Olivia van Gass (23, and a violinist, too) completed her BMus at UCT and is doing her honours in performance. Violist Annemi van der Merwe (25) also concluded her BMus at UCT (passing with distinction). The fourth member, Carol Schutz (28), has a BMus from Rhodes (also with distinction) and works as a public relations consultant at the UCT Unilever Institute attached to the commerce faculty.
As a string quartet, they last year notched up over 100 weddings appearances and were billed for the SAPPI Media Awards, the QE2 dinner at the Cape Grace Hotel (where they have a six-month contract) and the BOE gala dinner at Grand West Casino. And then there was the tantalising offer of a contract at an island resort.
Towards the end of last year, after three years of performing in a classical capacity, the muses pooled their imagination to produce the concept of Muse Amplified, a version of a string quartet never seen before in South Africa.
The notion of an all-girl ensemble is unusual in a male-dominated classical music circles. While Vanessa-Mae has produced her distinctive "violin techno acoustic fusion sound", combining popular, classical, techno, reggae and rock music, the muses are not imitating her art.
"Our style is completely unique," Schutz explained. The product is lively and engaging, a mélange of Latino House, jazz, hip-hop and dances styles, using amplified beats. And with Eksteen's composing talents, they're able to blend fresh music trends into their ever-developing stable. They also play sans music stands, music score or any of the restrictions of accepted classical performance.
And if their sound is distinctive, so too is their image. Whereas the violin-wielding Vanessa-Mae trades (very successfully) on a flirtatious mien, the muses prefer glamour in black.
"We're bridging the gap between classical and contemporary worlds, making the concept of a string quartet very sophisticated and striking, but also accessible," Schutz elaborated. They have taken this classical genre into clubs, pubs, parties, fashions shows and high-profile corporate events.
Their success has delivered growing public recognition and acclaim as e-TV and SATV crews, magazine editors and live talk show hosts have sought them out.
A flood of good fortune, it seems, is sweeping the ensemble along. But improvisation and experimentation are never far from their minds. The plan is to acquire a suite of electrical instruments to enhance their live performances. The cost? A paltry R50 000, Schutz jokes. The future teems with possibilities.
"There is a gap in the market between classic pops done by Vanessa-Mae and Bond and the highly marketable and cutting edge styles of house and dance music," Van Gass elaborated. Ultimately, they aim to take Muse to the international market.
They'd also like to test the possibilities and opportunities of multi-media performing and are approaching producers and record companies to produce their first album. And just to show that they appeal to far broader audience than a champagne-quaffing smart set, they're exploring the idea of live strings with DJs and other producers among the thundering and more clangorous club environment.
Ultimately, they dream of working with South African artists and performers, combining their string quartet with a diversity of styles.
"This country is a rich source of inspiration and musical opportunity," Schutz confirmed. They have come a long way since she first pinned up an advert at the music school stating: "Wanted. Three women for a string quartet."
---
This work is licensed under a Creative Commons Attribution-NoDerivatives 4.0 International License.
Please view the republishing articles page for more information.
---