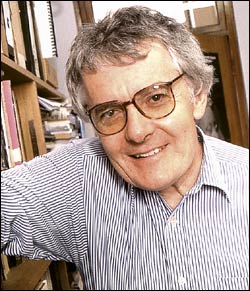 UCT's Department of Historical Studies is now the base for the South African Historical Society. In July, Prof Chris Saunders (left) became president of the society and his colleagues Drs Mohamed Adhikari and Lance van Sittert are treasurer and secretary, respectively. The society plans to co-host a major conference at UCT in June 2005 with the World History Association.
"Those who cannot remember the past are condemned to repeat it", Spanish-born philosopher, author and critic George Santayana (1863-1952) wrote.
The words have special relevance in Africa, where conflict has dominated much of the continent's history. South Africa's own, widely acknowledged efforts in the area of political negotiation and compromise have highlighted the importance of conflict resolution in the face of desperate odds.
But the lessons have been hard won and successful case studies are invaluable to historians such as UCT's Professor Chris Saunders, who has a special interest in the history of conflict resolution in Namibia and South Africa itself. He recently wrapped up a new course on historical perspectives on conflict resolution in southern Africa that attracted an unprecedented range of students from other African countries, including the Ivory Coast, the DRC, Zimbabwe, Lesotho, Mozambique, and Namibia. Other students came from Europe and the United States.
Some of the students had already helped mediate conflicts in their own country. Wellington Mbofana from Zimbabwe was at UCT as part of the Fellowship programme of the Institute for Justice and Reconciliation. The course that Saunders offered was initially designed to fit the needs of the Justice and Transformation Programme offered by the Graduate School in Humanities. Other courses in that Programme, offered by the Political Studies department and the Centre for Conflict Resolution, tend to be either more theoretical or more concerned with present issues. His course examines a number of case studies in detail - Zimbabwe, Namibia, Lesotho, Mozambique and Angola - and analyses similarities and differences between them.
"A new course, offering new perspectives, it attracted a very cosmopolitan group of students," said Saunders. "It is also an example of how the historical studies department can draw into its courses students who do not have an academic background in history." Many of the students were able to relate the subject matter to their own backgrounds and experiences. Comments from them ranged from "a truly rewarding course", to "very enriching to hear from other disciplines".
"History," said Saunders, who will offer the course again in the first semester of 2004, "is valuable to everybody."
---
This work is licensed under a Creative Commons Attribution-NoDerivatives 4.0 International License.
Please view the republishing articles page for more information.
---