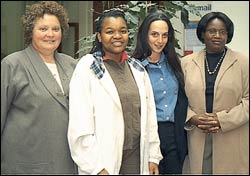 HIV/AIDS campaigners: (From left) Dr Judith Head, Lilian Mboyi, an HIV/AIDS master's student, Cal Volks, head of UCT's HIV/AIDS Unit, and Dr Loveness Kaunda, Dean of Students, celebrate the launch of the Graduate School of Humanities' second course on Critical Issues in the Study of HIV/AIDS. Volks and Kaunda were responsible for organising funding for the course.
Drawing on expertise across the university, 38 students will interrogate HIV/AIDS in South Africa from a range of perspectives this semester.
As part of the Graduate School of Humanities' (GSH) MPhil in HIV/AIDS, the course Critical Issues in the Study of HIV/AIDS aims to provide an understanding of the social, demographic and economic impacts of HIV/AIDS and to equip students to deal with these in critically aware and informed ways.
According to course convenor Dr Judith Head, students will be asked to challenge conventional wisdom and answer the question: "Is South Africa different?"
"The purpose of this will be to equip the participants to ask sharper questions and therefore contribute to defining the problems more clearly," said Head. "Solutions to the HIV/AIDS epidemic will be effective only if they are rooted in a process of critical reflection," she added.
The course, which has doubled its intake of students from last year, may be taken by occasional students. It also serves as an elective course for students registered for a master's degree in the GSH and forms the core course for students registered for the MPhil in HIV/AIDS.
Drawing students from Africa (including Zambia, Zimbabwe, Mozambique, Lesotho, Botswana, the DRC and Nigeria, as well as South Africa), America, Canada and Europe, the course provides a rich, collective experience for the participants, who come from varying backgrounds.
Head explained: "Besides conventional students from universities, the course attracts participants working in the area of HIV/AIDS, normally in NGOs, the public and private sectors, educational institutions or the media, who want to reflect on their experiences and deepen their understanding of the issues raised by the epidemic.
"We also attract people working in community-based organisations and faith communities, who want the opportunity to stand back and situate their experience within a broader theoretical framework," she said.
Once they have completed the course, some students will continue with the master's programme next year. Others will, however, return to their jobs with different perspectives on how to handle the HIV/AIDS epidemic. New understandings and fresh ideas on how to deal with old problems add value, as Lilian Mboyi's employer has found.
Mboyi, who completed the core course last year and is continuing with the MPhil this year, has already received a promotion. She has been appointed as Old Mutual South Africa's new HIV/AIDS Programme Manager.
---
This work is licensed under a Creative Commons Attribution-NoDerivatives 4.0 International License.
Please view the republishing articles page for more information.
---