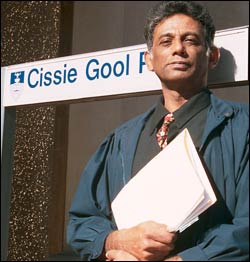 Tracing history: Dr Selim Gool, nephew of early Cape politician, Cissie Gool.
Sitting in the plaza that bears the name of his renowned aunt, Dr Selim Gool reflects at length on his aunt, Cissie Gool and the lineage that binds him firmly to an icon of early liberation politics in the Cape, the "coloured Joan of Arc", as he calls her.
Cissie's legacy has lead Gool, who is a research associate at the Centre for African Studies until the end of August, to embark on a popular history project, one that places his extended family in the context of Cape history at the beginning of the 20th century.
"I want to concentrate on the human relations aspects of their sometimes quite complex personalities in as full a way as possible, focusing on the importance of their achievements for the present day, democratic South Africa," he explained.
He dislikes the way in which some history books depict his parents, Dr Goolam and Halima Gool, as "Trotskyites" or Cissie as an "extreme communist".
"The reality was far more complex," he reflected. "I would imagine them being radical modernists and reformers more likely, seen from today's vantage-point" he added as he recounts convoluted lives of the Gool and Abdurahaman families that make up the strands of this personal history-cum-odyssey.
The research is perhaps also a celebration of his own homecoming; young, angry, disenfranchised and disillusioned, Gool left South Africa in 1969 for Sweden. He completed his PhD in economic and social history at Lund University in 1983 and lived and taught in Norway for fifteen years.
His quest has brought him full circle. He turned to South African in 1994 and has gradually untangled the lives of these renowned early Cape families to produce the backbone of his project, entitled: Contested Legacies: A critical interpretation of the lives and politics of the Abdurahaman and Gool families of Cape Town in the early- and mid-twentieth century.
Both families had a profound impact of wider Cape society and especially on Coloured schooling, welfare and black politics between 1900 and 1963. Their legacy is still felt today.
His mother, who in her youth had written stridently about the plight of Indian youth, against female slavery, like the purdah system, colonialism and racism under the pseudonym Hawa H Ahmed in Indian Views, and his aunt, Cissie, as well as their sisters, were rebels.
"They were eager to have their say on emancipation, equity and other social issues on the public platforms of the day," he commented. In short, they were considered unusual women; strong, vocal and educated.
The latter in itself was noteworthy. The women grew up at a time when secondary education was non existent for "non-European" girls. They were among the first coloured girls to be educated at Trafalgar High. Cissie and her sister, Wagieda, even went on to register at UCT in 1922. Wagieda went on to study medicine in Glasgow like her father. Cissie completed her master's degree in psychology in 1933 and a law degree in the 1950s. She was admitted to the bar in 1963.
Cissie began her political career in 1935 as co-founder and first president of the leftist National Liberation League (NLL), but had already in the 1920s supported her husband Dr AH Gool, then deputy president of the South African National Congress, on many national platforms.
"My aunt played a pioneering role for black women in South Africa in her persona as a 'coloured Joan of Arc' and as a City Councillor between 1938 and 1963," Gool noted.
Journalist Cornelius Thomas wrote: "Cissie Gool and a coterie of socialists not only challenged male leadership, they also took on the elder statesman of coloured politics, Dr Abdullah Abdurahaman, who happened to be her father."
According to Thomas, Cissie assaulted the "equal rights for all civilised men" stance and offered socialist solutions for the masses of South Africans instead.
"In this regard, Cissie, along with her sister-in-law Hawa Ahmed (Gool's mother), and Jainab Gool (also his aunt), was at the cutting edge of the intellectual revolution."
As Gool observed: "They created a network of organisations in the Cape in an attempt to reconceptualise certain elements of our social history and to fight for the rights of the black people of Cape Town."
Gool's reflection on his lineage also provides a window on the city's social history, as seen by the "dispossessed class, from the Malay slaves and their children, to the future coloured proletariat and sub-proletariat of District Six, Woodstock, Salt River and Observatory", something he feels has not yet been properly integrated into the "grand narrative" of Cape Town's history.
"These two pioneering figures in local council affairs have only now begun to receive the accolades and respect that they deserve and this has prompted me to undertake this research project."
In this endeavour Gool, is eager to talk with members of the UCT community who may have additional information to add to the letters, photographs and press coverage that spills from his portfolio of material.
"I am sure that many of the parents of present-day students may have come into contact with these high profile personalities sometime in their lives."
Ultimately, Gool hopes the work will be captured on film (he is writing a script) and on CD Rom and DVD, for educational purposes. One of his greatest challenges in reconstructing this history is the absence of black voices in academia and research, notable historical research.
His is an intensely personal journey into the past, but as Gool explained: "We all need an entry point into our own history."
(Gool may be contacted at 650-4034 or e-mail
sgool@humanities.uct.ac.za
.)
---
This work is licensed under a Creative Commons Attribution-NoDerivatives 4.0 International License.
Please view the republishing articles page for more information.
---