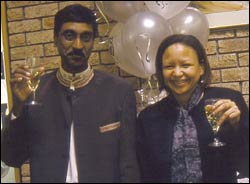 King of the castle: Prof Nicky Padayachee (left) celebrates his re-appointment as dean of the health sciences faculty with his deputy, Assoc Prof Gonda Perez.
An accordion player and a singer carrying a golden crown, balloons and roses are not what one would expect to find in the health sciences faculty office at lunch time on a Friday afternoon.
But this was no ordinary Friday afternoon. Staff gathered on May 30 to share in the celebrations following Professor Nicky Padayachee's re-appointment as dean of the faculty.
Padayachee and his staff were expecting a few speeches to be made followed by a quiet lunch. Brenda Klingenberg, health sciences' faculty office manager, had other ideas though. The Ring a Rosy entertainers burst through the door in song, placed a crown on the dean's head and serenaded him with a love song, much to the amazement of the crowd that had gathered.
Once the entertainers had departed and the laughter and applause had subsided, the flabbergasted "king" got up to make a speech.
Thanking all staff members for their continued support, Padayachee said he was looking forward to another five years in office.
"I'm very grateful to be a part of this family," he said. "We may disagree from time to time but we are united in making this the best health sciences faculty in the world."
Two other deans have also been re-appointed for further five-year terms of office. They are Professor Cyril O'Connor (Engineering and the Built Environment) and Professor Daya Reddy (Science). Professor Hugh Corder (Law) has been re-appointed for two and a half years.
In terms of the procedures for the re-appointment of deans, Vice-Chancellor Professor Njabulo Ndebele delegated responsibility for the process to Deputy Vice-Chancellor Professor Martin West, who undertook a consultative initiative in all four faculties. This involved meeting the Dean's Advisory Committee and seeking opinions from various heads of departments, academic staff, administrative staff, students and senior members of the central administration.
Special Faculty Board meetings were held in all four faculties where written reports from the deans on their past performances and on their future plans were discussed. The Vice- Chancellor then sought formal advice from the faculties through a secret ballot. The faculty responses were positive, with all deans enjoying more than two-thirds support from their Faculty Boards.
---
This work is licensed under a Creative Commons Attribution-NoDerivatives 4.0 International License.
Please view the republishing articles page for more information.
---