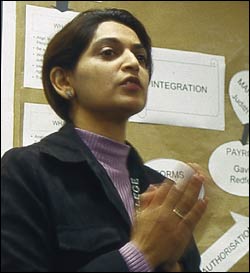 Change management: HR's Miriam Hoosain speaks at the department's OASYS information session last week.
Human resource administration and information at UCT is undergoing some major correctional surgery, along with an overhaul of the usage of the Human Resources Department's much-maligned but sorely underappreciated SAP HR software system.
The Department last week went public with its Operational Advancement through Systems (OASYS) project, launched in February this year and designed to institute an effective human resource administration and information system on Campus. At the project's two Open Days (June 2 and 3), staff were able to peruse the various displays on the OASYS streams, and to interrogate HR staff members on the project's finer details.
According to Miriam Hoosain, OASYS Project Manager and HR Information Systems Manager, the primary aim of OASYS is to "get the basics right". "If you want to put it into one line, this project is about getting the foundation of human resources administration and information right for our clients," Hoosain said at an introductory session that preceded last week's Open Days.
The project was established for a number of reasons, she elaborated - to provide a quality HR service to the University by optimising business processes; renewing and enhancing the SAP HR system; enhancing the knowledge and systems skills of HR staff; ensuring data integrity and providing meaningful and relevant management information.
To this end, HR will be doing a couple of things over the next few weeks and months. This will include cleaning up the data on SAP; reviewing document flow; developing relevant and essential HR and management reports; creating a clear understanding among HR staff and line of their responsibilities; and halting the many business precedents that impact negatively on both HR business efficiency and the system.
Of crucial importance is the input and support of the rest of the University, said Hoosain. "HR will become a strategic partner if the University and HR develops a strong partnership," she added.
"I have to emphasise that this project is not just a systems fix - it's about enhancing the HR skills of people, developing human resources as an efficient business partner, by using the system as an enabler," Hoosain pointed out.
One recommendation of the Auditing and Integration of Management Systems (AIMS) project was the need for a strategic human resources function at UCT, which demanded setting up a management information system - in UCT's case, the SAP HR system, noted Dave van Eeden, HR Executive Director.
After a detailed analysis of the system - "what it was doing for us, and what it wasn't doing for us" - the Department called in the assistance of SAP HR experts, Swicon South Africa (the Sandton arm of the Swiss-based Swicon Consulting Group), which specialises in, among other things, "fixing broken SAP HR systems" and facilitating the development of human resources as a strategic function.
"There's nothing wrong with SAP," said Van Eeden. "SAP is a world class system, and that's what most people often don't understand.
"It's what you do with SAP - if you don't align it with your business processes and then force the system to deviate from SAP standard without good business reason, then it won't work optimally."
Tracing OASYS's short history since February this year, Hoosain explained that the HR Department has over the past few months completed the "As-Is" part of OASYS, which involved a review of existing business processes and system design. More recently, the Department also hosted "To-Be" workshops, where proposals were tabled on what the system would look like.
The process of interrogating and streamlining existing business processes is ongoing, she observed.
Currently in the blueprint phase, the configuration of the SAP HR system is set to start by the beginning of August. Training will begin towards the end of the year.
If all goes well, the project should be completed by March 2004.
"We want to create a balance between the specialness of UCT and a system that thrives on consistency," added Hoosain. "The key outcome of this project will be a quality HR service to UCT."
---
This work is licensed under a Creative Commons Attribution-NoDerivatives 4.0 International License.
Please view the republishing articles page for more information.
---