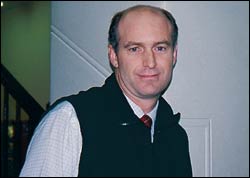 Professor Eric Wood
South African companies are making increasingly earlier forays into international markets and many are, contrary to popular belief, testing their youthful mettle in the exacting American and United Kingdom markets.
These were among the findings of Graduate School of Business Associate Professor Eric Wood's study Entrepreneurial and International: Lessons from young South African firms with international sales. The study was collaboration with the London Business School, IPADE in Mexico and the India Institute of Management in Bangalore. The research, funded by the UK Department for International Development, forms part of a four-country audit of such businesses.
The study included data from interviews with 103 South African executives. The companies surveyed were all less than 10 years old, but had entered at least one international market.
Wood's research set out to answer a number of crucial questions: how important is internationalisation for entrepreneurial firms in emerging markets; what challenges do these entrées pose for them, which strategies work best; and do these factors vary by country?
The findings of the study indicate that international excursions are expensive - in a number of ways. It costs companies and average of 24% of a year's revenue over the first two years to make it into an international market and demands 33% of top management's time. All this while facing a 29% probability of exiting a market and a 40% probability of the company not being in a breakeven position at the outset of the internalisation process. "Even the most gung-ho of entrepreneurs will agree this is not for the faint-hearted," Wood commented.
Another significant insight the study offers is that 40% of businesses make their first international sales in the first year of operation. "Internationalisation is clearly something of enormous strategic importance to these companies."
Despite their youth, the majority of these companies were significantly internationalised, he added. The mean export share of total sales was a high 42.3%, with international sales making up 40% or more of the total sales for just under half of the companies. The number remained the same regardless of the company's age or the industry it belonged to.
The UK and the United States are also the most popular and profitable international markets for South African companies, and many firms choose these regions are their first ports of call. "This suggests to us that the US and the UK are serving points of reference and that users in other countries are looking to see how a firm performs in these markets," said Wood.
But the main barrier local companies face is lack of information on international markets. Of the 24 possible constraints presented to executives as part of the study, four of the top five had to do with poor information. The study also showed that more than 60% of companies preferred direct exporting, which required low initial investments and management time. However, this dependence on direct exporting could possibly reflect early-stage caution, Wood noted.
Of concern to him was the limited use of foreign intermediaries, perhaps as a result of costs and risks. "This channel is important for securing future growth, especially considering the contribution it has made to businesses' international sales (significantly more than direct exporting)."
One of the main challenges, however, was how these companies would manage the risks of going beyond the direct exporting route, he added.
---
This work is licensed under a Creative Commons Attribution-NoDerivatives 4.0 International License.
Please view the republishing articles page for more information.
---