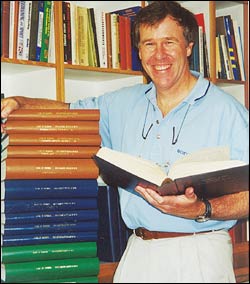 Lap of honour: Discovery Health Chair of Exercise and Sports Science Prof Tim Noakes' 30 years of research into the biomechanics and medicine of running has earned him the 2003 UCT Book Award for Lore of Running (fourth edition). He is pictured here with some of the book's drafts.
The 30 year's work and revision that went into Professor Tim Noakes' mammoth runner's guide, Lore of Running, is enough to make any hopeful author weep. But Noakes' thorough and consuming research in the field holds lessons in persistence - even doggedness - for athletes and researchers of any stature.
"You don't give up easily do you?" his early UCT mentor cardiologist Emeritus Professor Lionel Opie challenged Noakes at his recent 70th birthday (Opie's). It was with regard to Noakes' theory on fluid hydration, something he had been on about since his days as a medical student in 1972 and a debate that has lasted as long as the book.
Though aimed at Noakes' inquiring mind, there is also a runner's adage attached to Opie's challenge. And Noakes is still a keen runner, though only three to four times a week now, "with great difficulty". He cites accelerated leg muscle aging as the reason for this deceleration. "Evidence has shown that long-distance runners who clock up more than 50 marathons are at risk of this condition," he observed.
Noakes has become the first biomedical author since Opie (1986) to win the prestigious UCT Book Award for his gargantuan work of non-fiction, an award he will receive at UCT's June 20 graduation. At 1 300 pages ("You could kill a small animal with it," someone quipped), the book carries considerable weight in sports science circles around the world.
In its fourth edition, it offers the same comprehensive overview of running that made the first edition in 1985 a best seller. In many ways it is a work in metamorphosis and current revisions have incorporated major changes in thinking in exercise physiology.
The book is also one of Oxford University's Press's (Cape Town) most successful titles; the fourth edition sold 15 000 copies in the United States alone in the first four months after its release there, something of a coup, given its size.
Noakes is particularly chuffed by the volume's performance on the citation index. "When a book is referenced more than 50 times, it's considered a classic. In the past 16 years Lore of Running has been quoted as a reference 45 times. Last year this figure leapt to 84. Clearly, more people are referring to it as a textbook." He suspects this market is mainly US-bound, another coup as the US sport science community had largely ignored his revolutionary theories about hydration and hyponatremia in runners until very recently (see Monday Paper Vol22#11).
The Award is also a personal triumph. Noakes says he is honoured to be able to stand alongside distinguished authors like André P Brink, JM Coetzee, and especially Opie. "He has been very influential in my career and it's an honour to be classed in the same league," he remarked.
He also regards his nomination by Opie, and head of human biology, Professor Kit Vaughan (currently in Ireland), as well the team of academic staff and postgraduate students at the UCT/MRC Research Unit for Exercise Science and Sports Medicine as a huge compliment.
Magnanimously, Noakes has donated his R25 000 purse to the Ziphelele Mbambo Memorial Scholarship Fund, set up by the Unit recently in memory of a promising Master's student in sports science, killed a few years ago in a hijacking in KwaZulu/Natal. The fund is aimed at encouraging disadvantaged scholars into the same field that has won the Unit the respect of sports scientists around the globe.
Noakes is now increasingly turning his attentions to the role of the brain in sports science. UCT sports scientists are actively researching the theory that neither the heart nor the muscles become oxygen deficient during exercise, contending that the brain has a control mechanism designed to protect these tissues from damage, especially during intense exercise.
Is he limbering up for a fifth or even sixth edition of Lore of Running? "I've got to live that long," he joked. "It was Tolstoy who said every time he dipped his pen, he left a part of himself behind. That's the danger. But it's the only way to learn the field; I would never have understood the role of the brain without having looked at some old literature that had been ignored. But while it benefits one's understanding of a field, there is an emotional cost."
(Noakes' recent predecessors for the Award include Professor Jan Glazewski (Law Faculty), Dr Nigel Penn (Historical Studies), and Professor John Higgins.)
---
This work is licensed under a Creative Commons Attribution-NoDerivatives 4.0 International License.
Please view the republishing articles page for more information.
---