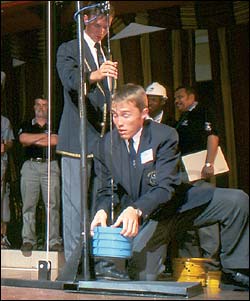 Bridging the gap: Duineveld High School's Gerhard Maritz loads another weight as his school's bridge is put to the test.
Macebearers needed for June graduation
UCT needs macebearers (staff or students):
to lead the platform party (procession) in and out of Jameson Hall at the start and end of ceremonies; and
to assist with providing academic dress to staff members joining the platform party.
Macebearing is voluntary, and there is no payment for providing this service. If you would like to be a macebearer, please send your name and contact details to Candice van Reenen at email
vanreenc@bremner.uct.ac.za
or telephone 650-2187. Please state at which ceremony you would like to assist. Ceremonies are listed below:
Friday 20 June
10h00 - Commerce, Health Sciences 14h30 - Law, Science, Humanities, Engineering and the Built Environment.
And their bridges keep falling down . . .
On May 9, 52 students from 16 South African and two Zimbabwean schools made their way to Century City's Canal Walk for the finals of the South African Institution of Civil Engineers (SAICE) Model Bridge Building Competition, the annual event coinciding with the organisation's centenary congress this year.
For the competition, the students, minimalistly armed with only a handful of wooden sticks, some glue, a few strings and their own engineering acumen, spent five hours painstakingly constructing model bridges. Their overpass was then hoisted to the top of a specially-designed scale, and laden with weights until it shattered.
As usual, the school whose bridge carried the greatest load in relation to its weight (with a few points thrown in for aesthetics) was adjudged the winner. This year's victorious school was Daniel Pienaar Technical High School in the Eastern Cape, whose three learners built a bridge that carried a whopping 200-kg before it crumbled under the burden of the weights.
According to UCT's Emeritus Associate Professor Derek Sparks, who has been involved in the competition since its inception some 20 years ago and MC at the May 9 gathering, the event was set up to inculcate an interest in maths, science and, hopefully, engineering among learners. "And even if they didn't go into engineering, we at least wanted them to have an appreciation for the discipline," he said.
---
This work is licensed under a Creative Commons Attribution-NoDerivatives 4.0 International License.
Please view the republishing articles page for more information.
---