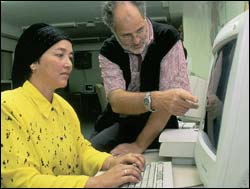 Spotlight On: Prof Maarten de Wit and Nazla Hassen - Geological Sciences
In the final of the WebCT articles, the focus is on Geological Sciences' Prof Maarten de Wit and Nazla Hassen.
Q&A:
Q: How many other institutions in South Africa use WebCT?
A: Some 15 South African institutions, including Cape Technikon, Universities of Stellenbosch, Pretoria and Wits.
When Maarten de Wit first heard about WebCT, he knew this was what he had been waiting for. He and his assistant, Nazla Hassen, quickly got their teeth into it. Hassen notes that, "Although computers can be frightening, enthusiasm and a desire to understand the software properly opens a whole new way of teaching." De Wit agrees, saying WebCT is the way to go, as it allows a whole new way for knowledge to be shared and explored with the students.
They used WebCT in 2002 for their Earth Stewardship second semester course. The students loved the ability to access information, and deal directly with the lecturer on issues of concern. De Wit notes especially disadvantaged students, and students who are shy of asking a "stupid question", are more at ease with WebCT.
"The move from expensive paper-based materials has made the lives of staff and students much easier. For example, normally students would have to pay a significant sum for a textbook. Now, a North American author has allowed my students to access the prescribed book through WebCT. The author does this because he knows and trusts the security of WebCT to allow only registered students access to his book. Similar deals have been negotiated with publishers.
"Cutting-edge articles, abstracts from conferences, links to web pages, all go to providing a rich resource beyond the confines of the library, and leads to informed debates and discussions in class. Students discuss instead of wasting time writing notes and drawing diagrams. In the future, I'd like to see students taking 'designer courses' specifically suited to their needs and interests. WebCT is ideal for that."
Hassen adds: "The support from ICTS' Computer Assisted Learning (CAL) was marvellous - especially because we operated at very short notice, and I could attend the WebCT course only after the bulk of the material was put into WebCT. Greg Doyle understood and reacted promptly to our special needs."
This year, the course will be repeated, and WebCT will be used for the Honours Module Evolution of the African Plate in 2004, saving R2000 in production of hard copy notes in the process. "Far from the inflexibility mentioned in Professor Hall's recent letter to the Monday Paper," De Wit observes, "I find that UCT's infrastructure is the restriction. 'Working hours', for instance, is outdated, and just doesn't match the reality of the working environment. I know that ICTS delivers everything they can, and are under enormous pressure, but the IT infrastructure is such that my students often can't access their work because of IT problems. This is not a WebCT issue; it's a university and IT issue."
---
This work is licensed under a Creative Commons Attribution-NoDerivatives 4.0 International License.
Please view the republishing articles page for more information.
---