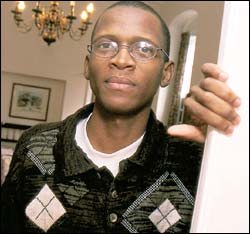 Precious metal researcher: PhD chemical engineering student, Noko Phala.
Applying the fundamentals of quantum physics to understand the diversified uses of gold has secured chemical engineering PhD student, Noko Phala, an invitation to research this topic further with leading experts in the field at The Royal Institution of Great Britain later this year.
The potential for gold to function as a heterogeneous catalyst for synthesis gas conversion to methanol (in addition to its jewellery, dental and investment-type applications) is a problem of common interest to both Phala and Professor Richard Catlow of the Institution, whom Phala met after presenting a paper at a recent conference.
Professor Eric van Steen, chemical engineering Head of Department and Phala's supervisor, believes an academic visit to the UK will be very important for Phala's technical and social development, as well as for UCT.
"Besides allowing Noko to further his research with leading experts in the field of gold catalysis, the visit will also strengthen collaborations between the two institutions," he said.
After Phala obtained his BSc (chemical engineering), first class honours, at the end of 1999, he joined AngloGold, where his work as a metallurgist saw him learning about the day to day operations of a gold processing plant.
Phala explained, "After all my studying this was a 'real world' experience for me. I loved learning about the technical issues but even more exciting was the opportunity to engage with people and management issues."
It was during 2000 that AngloGold and Mintek initiated Project AuTek to investigate the possibilities of expanding the uses of gold. It was due to this that the company sent Phala back to UCT to complete his MSc and PhD to provide them with an academic study of this area.
"Although AngloGold is mining, selling and marketing gold they would like to expand their marketing efforts into other potential applications in the future," Phala continued. "I am happy to be working on this project and to be part of the process of ensuring that the market for gold expands and therefore becomes more stable.
"At the end of my four months in Britain I will be able to bring back knowledge to UCT and we will have a better understanding of what gold will and won't be able to do," he concluded.
---
This work is licensed under a Creative Commons Attribution-NoDerivatives 4.0 International License.
Please view the republishing articles page for more information.
---