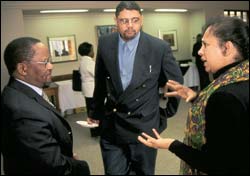 Talking business: Patricia Hendricks (right) shares some ideas with VC Prof Njabulo Ndebele (left) and colleague Raymond Schuller.
Winding up a restructuring process that started around eight months ago, the newly-amalgamated Department of Communication and Development last week formally celebrated its inception with a host of University executives, communication and development personnel and other guests at a special breakfast function.
The Department of Communication and Marketing and the Development Office were two separate departments before the process of alignment began in August last year. Much of the merger's design and formation were completed in December last year.
The first four months of 2003 have seen the new Department of Communication and Development (DCD) set its vision, departmental objective and section plans.
Speaking at last week's gathering, Executive Director Gerda Kruger said the objectives of the restructuring was to integrate communication, marketing, fundraising, planning and relationship management. This, she said, would ensure a focus on core activities, minimise duplication, secure alignment with UCT's key objectives and ensure professional service delivery.
"Our intention is to strengthen and secure new relationships with key stakeholders through a very deliberate National Alumni programme, International Chapter programme and Individual Giving programme," she said. "We have strengthened out ability to fundraise and I believe our increased management capacity will ensure delivery. We have also consolidated and strengthened our Faculty Liaison Unit and a main focus is to secure appropriate systems and support services."
Kruger said that the staff in the department deserved credit for delivering a large amount of work while going through the restructuring process.
"The process was not always a comfortable one. It demanded a lot of everyone. I believe we have a dedicated and professional team that are committed to making this work.
Deputy Vice-Chancellor Professor Martin Hall, in turn, noted that an increasingly complex external communication environment required that the University review its previous structures, and press for a merger of the two departments.
The melding of the two departments and its duties were very much in keeping with international trends, he indicated.
A recent fact-finding trip to Europe and North America affirmed this approach, particularly a visit to McMaster University in Canada, an institution highly regarded for its communication and fundraising infrastructure, Hall said. At the time of his visit, McMaster was adopting a structure almost identical to that implemented at UCT, he added.
"Almost everything that we were doing, they were also doing. We are on par with best practice internationally."
---
This work is licensed under a Creative Commons Attribution-NoDerivatives 4.0 International License.
Please view the republishing articles page for more information.
---