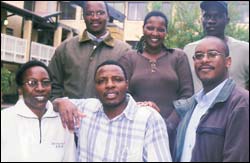 Six of the best: Among the current group of USHEPiA Fellows are (from left, back) Karanja Kibicho (PhD, Jomo Kenyatta University of Agriculture and Technology), Purity Macheru (PhD, University of Nairobi), and Richard Otukei (MSc, Makerere University). (From left, front) Siphila Mumenya (PhD, University of Nairobi), Zibisani Bagai (PhD, University of Botswana), and Jim Ayorekire (PhD, Makerere University).
Awards to women in the most recent Science and Engineering Cohort of USHEPiA Fellows represent the highest percentage to date, four women out of a total of 10 Fellowships.
Besides electrical, mechanical and civil engineering, the disciplines represented in this Cohort cover geology, metallurgy, aquaculture, geomatics, pharmacology and environmental and geographical studies.
The University Science, Humanities, and Engineering Partnerships in Africa (USHEPiA) Programme is a co-operative venture among UCT and several sub-Saharan tertiary institutions: Makerere University Uganda, University of Botswana, Jomo Kenyatta University of Agriculture and Technology Kenya, University of Zambia, University of Nairobi, University of Zimbabwe, and the University of Dar es Salaam.
The initiative, developed to promote collaboration among established African researchers, is now in its seventh year. "The Programme objective is to generate and disseminate knowledge and to build human and institutional capacity in cash-strapped African universities," explained Nan Warner, Africa Links Administrator in the International Academic Programmes Office (IAPO).
"The ultimate goal is to build on existing potential to develop a network of African researchers capable of addressing the developmental requirements of sub-Saharan Africa," Warner elaborated. "We thus aim to turn centres of excellence into networks of excellence."
Funded by three major donor organisations (the Rockefeller Foundation, the Carnegie Corporation, and the Andrew W Mellon Foundation), fellowships are offered for what is termed "split-site" MSc and PhD degrees where the Fellows, all staff members of the partner universities, study topics of local and regional concern, they are jointly supervised by their home institutions and hosts UCT. While at UCT, Fellows stay at All Africa House.
To date the Programme has offered 46 Fellowships in three Science & Engineering, and two Humanities Cohorts. Nineteen PhDs and five Masters degrees have already been awarded.
---
This work is licensed under a Creative Commons Attribution-NoDerivatives 4.0 International License.
Please view the republishing articles page for more information.
---