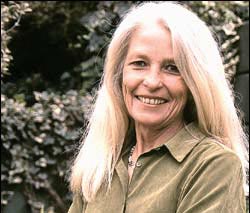 New horizons: Former Youth Project Co-ordinator at the Centre for Conflict Resolution, Val Dovey, has formed her own consultancy but retains her relationship with the Centre as a Senior Associate.
Val Dovey has certainly earned her laurels as a peace pioneer among the youth in South Africa.
Dovey's name is synonymous with the Centre for Conflict Resolution (CCR), founded by UCT and the Abe Bailey Foundation in 1968. For almost 15 years the former CCR Youth Project Co-ordinator has played a pivotal role in providing peace education to children and youth. She initiated the CCR's Youth Project in 1990 and went on to become a leader in the field in South Africa.
But looking for an opportunity to spread her professional wings, Dovey has now established her own consultancy. "I really valued my time at the CCR. I have grown incredibly, both personally and professionally. I learnt from wonderful people from all walks of life and have drawn great fulfilment from hearing about the 'ripples and rumbles' that have emanated from our work, both in and beyond South Africa. Now I want to diversify my services and explore other avenues of interest," she remarked. Her skills, however, have not been lost to the CCR for she has retained a valued senior associateship with the Centre.
Dovey's peace initiatives have been recognised by a number of public and private enterprises, and have won her some prestigious awards. She was a nominee for the Kellogg Hannah Neil World of Children Award in 2002; her Project scooped the Education Africa Premier Award (Western Cape) in 1995; she featured in the Femina-Old Mutual Directory for Leading Women in 1995/96 and1996/97, and won the SANLAM-Argus Peacemaker of the Week Award in 1994.)
Dovey joined the Centre for Intergroup Studies, as the CCR was known in 1988, as a part-time researcher to organise a national workshop on the impact of apartheid violence on children. She moved on to work with school principals, teachers, school clinic staff, parents, NGOs and young people to provide the continuity needed to sustain peace education in school communities and became an early pioneer of peace education in South Africa.
In 1999 Dovey established a close working relationship with the Western Cape Education Department's Safe Schools Project (SSP) encouraging them to add conflict resolution to their activities. She will maintaining her international connections and has been invited to Zimbabwe in June to continue with a long-term programme she has been conducting with a community group in Zimbabwe for CCR. She will also run a Conflict Resolution Workshop for UCT's Department of Extra-Mural Studies' Winter School in June.
---
This work is licensed under a Creative Commons Attribution-NoDerivatives 4.0 International License.
Please view the republishing articles page for more information.
---