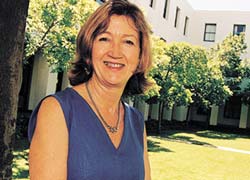 Taking charge: Dr Ailsa Stewart-Smith is the new head of the GSB's Executive MBA.
Graduate School of Business senior lecturer Dr Ailsa Stewart-Smith has been named the new director of the School's Executive MBA (EMBA) programme.
Formerly a lecturer in UCT's Department of English (Geoffrey Chaucer featured among her academic repertoire) Stewart-Smith acknowledges that her passage to the Graduate School of Business and her new office sometimes resembled a "long and winding road". The connection, however, is her enduring passion for language, she says.
The turning point in her professional career came when, while teaching in the English Department, she had to choose a theme for her doctoral thesis. Rather than opt for one of the more orthodox subject matters in her discipline, Stewart Smith decided instead to explore the intricacies of legal language, "why we can't understand even fairly simple contracts like a cellphone contract or a missive from the bank".
Her choice proved a telling one, as she was soon in demand among those who begged assistance in rewriting contracts. She was involved in the revision of the national and provincial constitutions so that newly acquired rights could be written in a way that ensured more people would understand what they were entitled to. In 1995, she left UCT to run a consultancy, and for four years advised and aided individuals and companies in need of such expertise.
It was through her association with managers at these companies that Stewart Smith eventually put together customised management training programmes.
"The management training that I felt that managers needed was the ability to communicate effectively in writing, and inter-personally," she said.
By the time she had secured her present position with the GSB in 1999, Stewart-Smith had amassed plenty of experience in teaching such skills. Since then, she has lectured on the EMBA, MBA and Associate in Management (AIM) and a range of executive programmes, specialising in management communication and professional development. She also taught the verbal skills section of the GMAT preparation course that prepares MBA applicants to sit the test that forms an important part of their application to the GSB. On her recent appointment to the EMBA directorship, Stewart-Smith is enthusiastic. "I think it's a great programme. It gets people thinking in new ways and re-learning, and I thought that many of the things I've done could add value."
GSB management concurred, and Stewart-Smith, as of May 1, took over the reins from Associate Professor Tom Ryan. Ryan, whose position has been a joint appointment between the GSB and Faculty of Engineering and the Built Environment (EBE) for the past few years, will now move to the Breakwater Campus on a full-time basis, focusing most of his attention on curriculum development.
"These are exciting developments, not only for Tom and Ailsa individually, but also for the School as a whole," commented GSB director, Professor Nick Segal. "Inter alia they will help us to ensure that we have real institutional capability in continuing curriculum design and development."
And maybe, said Stewart-Smith, the leap from
The Canterbury Tales
to managerial education has not been such a huge one. "There have been little links all along the way."
---
This work is licensed under a Creative Commons Attribution-NoDerivatives 4.0 International License.
Please view the republishing articles page for more information.
---