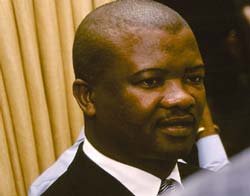 Talking things out: UDM leader, General Bantu Holomisa, at the recent All Africa House seminar.
General Bantu Holomisa, President of the United Democratic Movement, tackled the thorny question of South Africa's foreign policy towards Zimbabwe as guest speaker at the most recent All Africa House seminar.
Holomisa, renowned for his outspoken ways, took a more tempered tone - occasionally - as he pointed to some of the shortcomings of this policy, noting, among other things, that "no-one is willing to tell Mugabe to stop his culture of tyranny". But as critical as he sometimes may have been of South Africa's stance towards the Zimbabwean president, he emphasised that a unilateral approach would not be the correct one to take.
Instead, he suggested, South Africa should join forces with the United Nations and African organisations, such as the South African Development Community (SADC), to address the issue. "South Africa is not Zimbabwe's only neighbour," he remarked.
"We are also learning from the Zimbabwe situation, and we are trying very hard to avoid the same mistakes," he closed.
---
This work is licensed under a Creative Commons Attribution-NoDerivatives 4.0 International License.
Please view the republishing articles page for more information.
---