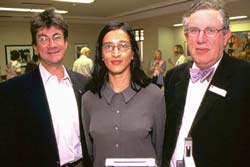 Keeping UCT abreast of the law: (from left) Professor Hugh Corder, Dean of the Faculty of Law and Associate Professor Saras Jagwanth, were the speakers at last weeks Open Planning Forum, they are seen with The Registrar, Hugh Amoore.
The Promotion of Access to Information Act of 2000 (POATIA) was the topic of discussion at last week's Open Planning Forum. The Act seeks to give full expression to the right of access to information contained in Section 32 of the Constitution.
According to Professor Hugh Corder, dean of the faculty of law, and Associate Professor Saras Jagwanth of the Department of Public Law, the objects of the Act are inter-alia to give effect to the constitutional rights of access of information, subject to justifiable limitations including the reasonable protection of privacy, commercial confidentiality and effective, efficient and good governance.
Professors Corder and Jagwanth described the responsibilities imposed by the Act on public bodies such as universities. As a public body, the university was obliged to release records without it being necessary for the requester to give reasons for the request. However, records may not be released if they fall within one of the many exemptions in the Act. Examples of the grounds on which a record may be refused includes the protection of privacy, and information related to research and policy.
Corder and Jagwanth argued that it was important for the university to attempt to give effect to the goals of transparency, accountability and effective governance in the Act.
---
This work is licensed under a Creative Commons Attribution-NoDerivatives 4.0 International License.
Please view the republishing articles page for more information.
---