A letter from Lester John
I can easily see how performance-enhancing drugs can affect the results of many sports, but cricket is a very different type of sport.
How can a drug make one a better batsmen or bowler? I can understand how drugs can improve performance in athletics and other sports such as soccer, weightlifting etc ... but cricket? Is the whole drug issue relevant in the context of cricket ... or is it just being transplanted from other sports with no consideration of relevance?
Dr Lester John
Response from Professor Tim Noakes, Department of Human Biology, Sports Science Institute of South Africa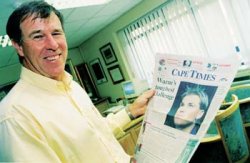 Why does it matter? Prof Tim Noakes responds to a query about the use of performance-enhancing drugs in cricket.
You raise a very valid question. Certainly Warne fell foul of a system that is trying to control drug use in sports in which there are many drugs that are performance-enhancing and that few such drugs, currently available, would likely improve the performance of a cricketer.
However, the reality is that drug use in sport is a multi-billion dollar international industry that is not really interested in the ethical issues and good sportsmanship that the public currently associates with sport.
Sooner or later the industry will ensure that drugs are discovered that improve cricketing performance and these would then be promoted among the cricket playing nations of the world. It is merely a matter of time.
For example, anabolic steroids are allegedly widely used in professional baseball both by pitchers and, more importantly, by the batters. This is because hitting home runs in baseball requires a very powerful swing.
While we always argue that cricket is different and that timing alone will allow a good player to hit the ball hard in cricket, who knows what extra help might come from a bit more power produced by anabolic steroids?
The same applies to fast bowling. Are we certain that a drug that can increase sprinting speed by up to 5% will not do the same to bowling speed? I suspect that it would and that it is only a matter of time before fast bowlers will be tempted to find out for themselves.
That is why testing for drug use in cricketers is justified and will become increasingly more important in the future.
Tim Noakes
---
This work is licensed under a Creative Commons Attribution-NoDerivatives 4.0 International License.
Please view the republishing articles page for more information.
---