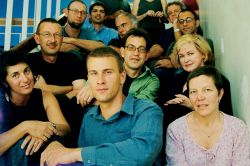 Mastering architecture: (From left, front) Angela Ferreira, Christoph Ullman, Sally Titlestad, (from left, middle) Andre van Graan, Iain Low, Dianne Ghirarado (from left, back) Jonathan Ferrari, Renchius van der Merwe, Joe Noero, Jake de Villers and Zayd Minty.
THE UCT School of Architecture Planning and Geomatics launched its Master of Philosophy degree at a lunch-time function last week.
According to Course Convenor, Associate Professor Iain Low, the graduate degree programme is intended to draw in mature students with honours degrees or four year-equivalent qualifications who have research interests in emerging debates around the cultural construction of space.
"It is open to students in architecture and planning, as well as to students from other disciplines who are interested in the diverse socio-cultural links between material culture and the built environment. The degree is comprised of both course work and a dissertation and offered on both a part-time (24 month) and a full-time (12 month) basis," he explains.
Low says that there was a need to develop an interdisciplinary programme in the School of Architecture so as to draw a more diverse group of students, who would otherwise not have done architecture because of the professional qualification driven nature of the undergraduate degrees.
"The MPhil is a university standing degree, which is 50% course work and 50% dissertation so it is the ideal model for us to respond to the diverse range of students and spheres of inquiry out there. In the past we only had the MArch which is a purely research degree, but it presents a huge jump between doing a course-work professional degree and then undertaking critical academic research," he adds.
Eight students, most whom are doing the course part-time, are currently registered with the programme and will be under the tutelage of distinguished academic and architectural historian, Professor Dianne Ghirardo of the University of South California in Los Angeles.
---
This work is licensed under a Creative Commons Attribution-NoDerivatives 4.0 International License.
Please view the republishing articles page for more information.
---