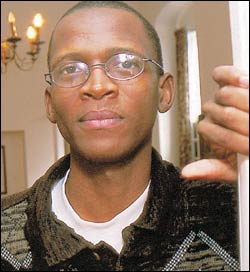 Golden boy: Chemical engineering PhD researcher Noko Phala has added another accolade to his already impressive list of achievements.
A few months ago, Monday Paper ran a story on chemical engineering PhD student Noko Phala, whose research involved the application of the fundamentals of quantum physics to understanding the diversified uses of gold - work which earned him an invitation to research this topic further with leading authorities at The Royal Institution of Great Britain.
Phala is once again in the spotlight, this time for presenting his work at a premier international conference.
Since 1995 the Catalysis Society of South Africa (CATSA) has sponsored an international expert in catalysis to meet with interested South African research groups.
This year the society decided to introduce a student travel grant enabling South African postgraduate students to present their work at international, peer-reviewed conferences.
Phala and fellow UCT Catalysis Research Unit member Itai Mabaso, together with Nishlan Govender from the University of Natal's chemistry department, were awarded the accolade.
In order to qualify for the CATSA grant, candidates had to have their papers accepted for presentation at an international conference or refereed meeting.
Phala attended the GOLD2003: New Industrial Uses for Gold conference held in Vancouver, Canada, from September 28 to October 1.
With approximately 300 participants representing industry and academia in a wide range of fields, from gold chemistry to materials science and nanotechnology, Phala was involved in scientific discussions with world-class specialists.
"It's a wonderful opportunity to engage with scientists, most of whom you 'know' from their many intellectually stimulating publications. Having the chance to tell them what we at UCT think was quite a pleasure."
Examining the reaction between carbon monoxide (or carbon dioxide) and hydrogen (derived from natural gas or coal), Phala's paper detailed the potential use of gold as a methanol synthesis catalyst.
"My paper was theoretical in nature," he explained. "Looking at the surface of a two-dimensional infinite gold surface versus a collection of 13 gold atoms, I tried to understand on which of these two systems the reaction would occur and why.
"The theoretical techniques that were used are based on the principles of quantum physics and chemistry and are quite useful in understanding the atomic-scale behaviour of matter."
Having met many people at the conference, Phala believes future collaborations are imminent.
"Although we did not attempt to finalise everything at the conference, we are aware of each other's work and there are going to be many fruitful exchanges in the future."
---
This work is licensed under a Creative Commons Attribution-NoDerivatives 4.0 International License.
Please view the republishing articles page for more information.
---