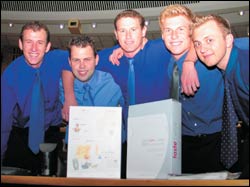 Suite success: JamJ@r's members are (from left) Andrew Stockton, Ben Katovsky (leader), Gary-Mark Fouche, Justin Larsen and Piotr Stulinski.
They could be considered hot stuff if the scope of their fourth-year information systems project is anything to go by. Last week, five commerce students had their winning endeavour presented to the South African Bakers Guild as a model of how technology will change the way bakeries will be run in the future.
JamJ@r, as their catchy group names goes, took top honours among the 17 fourth-year information systems projects unveiled to the public last week. A highly competitive course, the projects have always brought out singularly creative solutions to real life problems, as these senior students have vied with one another for top marks.
The projects represent a major component of the BCom (honours) and business science degrees in information systems.
But these are no esoteric, pie-in-the-sky solutions to theoretical scenarios. As IS head of department Professor Derek Smith says: "These projects provide working solutions to real world problems and situations in business and society, as put forward by local and international organisations."
This year the course's 91 students created what Smith describes as "comprehensive and outstand ing" information systems for 17 ventures involved in Hajj management, textile manufacturing, call centre management, schools cricket management (to identify top young cricketers), and the management of a Kleinmond abalone farm.
A bakery project sounds innocuous enough, interesting but not startling. What was the winning recipe? Although over 25 characteristics are taken into account by evaluators, JamJ@r's group leader, Ben Katovsky, puts their achievement down to an integrated suite of applications based on an N-tier systems architecture, one not often used in IS students' information systems developments.
"It required a different approach in development," said Katovsky. "Using quite a bit of new technology, we generated a solution that would allow functionality to be presented on multiple interfaces, including standard Windows applications, web sites and personal digital assistants (PDAs)."
This required four to five layers of logic, as opposed to the two to three layers generally found in applications. "These layers were made up of a significant amount of code and to ensure we could complete the project we created a rapid application tool that would automatically generate the code for us, based on our database architecture. In the end, we developed a system we believe was appreciated by information systems practitioners."
"It was also the size and scope of the undertaking," said teammate Piotr Stulinski. "A lot of time was required to generate the amount of code required for the scope of the project." And although this meant they had to watch competing teams move steadily ahead, in the end this code saved time.
Part of a suite of applications, bakery/wise was created for the food service industry by TasteWise International, a company providing businesses within the fresh foods and retail industries. Though the company has already computerised certain of its solutions for specific industry operations, it has identified new opportunities in integrated solutions to the food industry. Some of the envisaged components include operations such as bakeries, butcheries and restaurants, said Katovsky.
The main aim of bakery|wise is to create an integrated management system for the baking industry, whether in the larger Pick 'n Pay stores, medium Engen convenience outlets or single corner bakeries. The system is designed to help the managers of these bakeries control critical areas of the business, what JamJ@r call "high-powered functionality that streamlines the daily operation and management of their business". What the system does is replace the manual, ad hoc and often non-existent management techniques in many bakeries with easy-to-use guided functionality.
"Most bakers have more product and trade knowledge than actual business management skills," said Katovsky. "This system helps the baker reduce costs and boost their profits by ensuring optimal resource use and advanced production planning, financial control and scenario analysis." All of which makes good business sense when they are sometimes producing more than 100 line items a day.
The bakery|wise system can easily share information with an integrated supplier portal, supplier|wise, which allows suppliers to list their products and recipes. Take a wholesome loaf of wholewheat bread for example. Using bakery|wise, the baker taps into the supplier|wise portal and can download a branded recipe, say Bokomo brown bread, or information about specific products. This integrated portal also allows for automated reordering or ingredients from these suppliers. By tapping into the linked stock|wise solution, the baker can use the latest in mobile PDA technology to manage his stock, including receipts, issues and customer deliveries. The tiered system can be similarly used for a butchery or restaurant.
"For the purposes of our project, we considered only the development of bakery|wise, supplier|wise and stock|wise," said Stulinski. "But it is important that the entire solution as an integrated suite of applications for the industry as a whole, be kept in mind so that it is expandable to other operations such as butcheries and convenience stores."
The groups find their own projects at third- and fourth-year levels. "We vet them and also have some up our sleeve," Smith added. "I must admit, I prefer projects that support charities, NGOs and the like. We need more of these for 2004."
Nonetheless, he is delighted with the students' results. "They had to change to a new systems development environment this year. Despite this big learning curve, the marks ranged from 61% to 93%." Though the classes have been huge over the past three years, he expects a drop in 2005 to between 50 and 60.
"This has been a boom time for the IT industry, which is now thankfully stabilising."
---
This work is licensed under a Creative Commons Attribution-NoDerivatives 4.0 International License.
Please view the republishing articles page for more information.
---