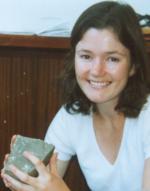 Rock of ages: The 2002 SA2A3 Bronze Medal winner, Justine Tinker, says the prize was an unexpected but much appreciated award.
THE SOUTH African Association for the Advancement of Science recently awarded its prestigious S2A3 Bronze Medal, its top honour for South African Master's students, to Geological Sciences PhD student Justine Tinker.
Tinker earned the award for her MSc geology thesis titled,
Stratigraphic and Structural Interpretation of Seismic Reflection Data Across Selected Sections of the Kaapvaal Craton
. Currently collecting data for her PhD thesis, Tinker says that she was unaware that her work had been submitted for the award by her supervisor, Professor Maarten De Wit.
"I knew nothing about this. Before I found out about the award and the prize money, I had bought a digital camera and I was wondering how I was going to pay for it and live for the next year," she laughs.
The Bronze Medal carries a R15 000 monetary prize, which, in Tinker's case, will go towards paying off the camera.
Tinker says that the camera is a necessary tool in her field of expertise as she needs to record samples of rocks she comes across on field trips.
"Digital images are easier because they can be loaded straight into the electronic version of my thesis."
Her tiny office is currently home to 50 transparent plastic bags carrying rock samples she collected in the Karoo two weeks ago for her PhD thesis.
She still has to crush the rocks, with the assistance of a rock grinding machine, in order to identify distinct mineral grains.
"In order to identify the mineral grains and pick the ones I need, I have to get the rock to a fine powder before doing my experiments."
Tinker's PhD research is a far cry from the thesis that won her the bronze award. The groundwork for her Master's thesis is based on geophysical data from a mining company, which Tinker used to investigate how the Transvaal basin was formed between 2.2 and 2.6 billion years ago.
The basin is the world's largest gold supplier and is constantly being studied by gold mining companies but until Tinker's thesis no one had access to the much sought-after confidential seismic data. Because the research was geophysical rather than geological, Tinker never visited or physically examined the rocks on site.
"I was working mainly with geophysical data. Now it is quite refreshing to be working away from a computer a bit."
---
This work is licensed under a Creative Commons Attribution-NoDerivatives 4.0 International License.
Please view the republishing articles page for more information.
---