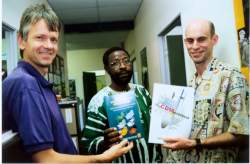 Environmentally friendly: (from left) Harald Winkler, Prof Jabavu Nkomo and Randall Spalding-Fecher of the Energy and Development Research Centre with some of the books launched by the EDRC at a recent UN meeting on climate change.
STAFF of UCT's Energy and Development Research Centre (EDRC) enjoyed a full schedule at a recent United Nations conference where arguments raged on how to keep international efforts to address climate change on the right track, and to look at scientific and policy issues related to climate change.
The EDRC's Professor Ogunlade Davidson, Professor Jabavu Nkomo, Harald Winkler and Randall Spalding-Fecher were among the 4 300 delegates – representing 167 countries and more than 213 organisations – at the Eighth Conference of Parties (COP-8) to the United Nations Framework Convention on Climate Change (UNFCCC), held in New Delhi in India from October 23 to November 1.
The COP meets once a year, and their latest meeting marked the beginning of a new phase of negotiations that were focused on the implementation of the Marrakesh Accords that were agreed to at COP-7 in Morocco in November 2001.
The Marrakesh Ministerial Declaration reaffirms that economic and social development, and poverty eradication are among the first and overriding priorities of developing countries.
It also stresses the importance of capacity building, and developing innovative technologies through public and private sector involvement.
The EDRC was at COP-8 to present its policy research, to participate in official side events and project meetings, and to engage with and support African delegations at the gathering, reports Nkomo. The Centre also organised one of the side events, where Davidson provided an overview of the energy and climate change links in Africa and, together with Spalding-Fecher, talked on technical issues related to expanding power supply and industrial energy consumption in Africa.
Davidson, Nkomo, Spalding-Fecher and Winkler were also involved in a number of other presentations and discussions. These included a meeting on the two-year UNITAR Training on Climate Change project, which will assist developing countries in their preparations for the ongoing UNFCCC process and the implementation of the UNFCCC and the Kyoto Protocol, among other things.
And as if these weren't enough to keep the DRC staff on their toes, the Centre was also accepted as a member of the Research and Independent NGOs, to be known by the catchy acronym of RINGO.
---
This work is licensed under a Creative Commons Attribution-NoDerivatives 4.0 International License.
Please view the republishing articles page for more information.
---