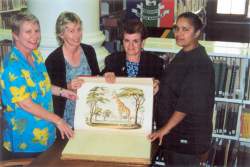 An open book: The new book
Portraits of the Game and Wild Animals of Southern Africa
is displayed by staff at the African Studies Library, including (from left) Bev Angus, Margie Struthers, Tanya Barben and Belinda Groenewald.
THE African Studies Library has acquired a new, rare and very large addition to its collection.
Portraits of the Game and Wild Animals of Southern Africa
is the work of Captain William Cornwallis Harris, a British engineer who served with the Bombay section of the Indian Army.
Certainly, the newcomer attracted the attentions of a group of international bibliophiles who visited the library recently. Valued at some R60,000, the book was donated to the library by Professor Nigel Weiss of the department of mathematics and astrophysics at Cambridge University, who inherited it from his father.
UCT already had the 1969 AA Balkema reprint of the book but the original is something special. "It's 162 years old and in very good nick," commented librarian Tanya Barben.
Harris's is an interesting story. Because of ill health, a medical examining board sent him to the Cape in 1836 on two years' sick leave. On the sea journey south he met William Richardson, an official from Bombay, and they decided to embark on a long hunting trip into the interior of southern Africa. Equipping their party well, they set out with goods for barter and for Paramount Chief Mzilikazi.
The Dictionary of South African Biography
(edited by CJ Beyers) describes their journey: "From there they hunted every kind of game with great success, H taking an intense interest in all species, for besides being a hunting enthusiast he also had a marked scientific bent". And later, "In January 1837 H reached his destination in the Cape Colony via Coleberg and in December that year was back in India where he arranged and co-ordinated all the data he has assembled. His book was published in Bombay in 1838 under the title
Narrative of an Expedition from the Cape of Good Hope to the Tropic of Capricorn in the Years 1836-37
."
A second edition appeared in London in 1839, containing several of Harris's drawings. These were published in their entirety in London in 1840 as
Portraits of the game animals of Southern African, drawn from life in their natural haunts
. Apart from the portraits of game, the book includes one of Mzilikazi.
---
This work is licensed under a Creative Commons Attribution-NoDerivatives 4.0 International License.
Please view the republishing articles page for more information.
---