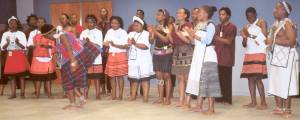 Singing their way to success: The UCT Choir for Africa was one of the many acts performing at this year's Vancouver Summer Festival, but one of the few who "mesmerised" not only their audiences but also the Canadian media.
ACCORDING to Chupe Serote, Chairperson of the UCT Choir for Africa, their recent tour to Vancouver was a resounding success.
"Audiences in that part of the world mostly applaud at the end of the concerts or when a group breaks for interval. With our choir, the audiences were on the edge of their seats the whole concert," enthuses Serote.
The 12–day tour was an opportunity for the Choir to take part in the annual Vancouver Summer Festival, which aims to assemble the world's best musical groups across a spectrum of genres, from classical and jazz to chamber music.
The Choir was billed in the same category as the Russian National Orchestra, Lille Muko Choir from the University of Copenhagen and two Cuban groups, "Muy Cliente" and "Exaudi". The first concert was hosted in the 1200-seater, Chan Centre and the second at St Andrews Wesleyan Church in downtown Vancouver.
According to Serote, both venues were packed to capacity during their performances. He also says that the few UCT Choir for Africa CDs they were able to take with them to Canada were sold out soon after their first performance.
The excellent reviews and generous press coverage they received from the local media, helped not only to promote their performances, but also led to many orders for their CDs.
"It filled us with a great sense of accomplishment to learn that our performances had so many people mesmerised."
---
This work is licensed under a Creative Commons Attribution-NoDerivatives 4.0 International License.
Please view the republishing articles page for more information.
---