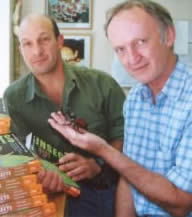 UCT entomologists Assoc Prof Charles Griffiths (front, with the atlas beetle in his hand) and Dr Mike Picker have co-authored South Africa's (and Africa's) first insect field guide: Field Guide to Insects of South Africa. The 440-page guide has amateur and professional entomologists all abuzz. At the time of going to press it had already sold almost half of the first edition, published by Struik. (By the way, Griffiths bought this paper replica of an atlas beetle from a Chinese stall holder in Covent Garden some years ago).
THE NEW Field Guide to Insects of South Africa, co-authored by Dr Mike Picker and Associate Professor Charles Griffiths from UCT's zoology department and Alan Weaving, a retired entomologist from Grahamstown, has taken off.
The hefty 440-page guide sold 1 500 copies of the first printing in the first two weeks of its release. "The book has certainly filled a niche. There is no other field guide for insects in Africa," Griffiths commented.
The aim of the book was to showcase the very rich insect life of South Africa. A former head of Zoology and a renowned local natural history photographer, Griffiths' main task was to provide many of the colour photographs. Picker, a senior lecturer in Zoology and head of the newly-formed South African Mantophasmatodea Project (to research the most recently-discovered insect order) provided much of the entomological information, aided by Weaving. In tackling such a large group as the insects, the assistance of entomological colleagues from as far afield as Los Angles and Germany was essential.
Although there are probably in excess of 100 000 species of South African insects, the authors narrowed the choice to include detailed descriptions of over 1 200 of the most common, economically and ecologically important, and most interesting and attractive insects in the region.
The book has achieved depth by including a very wide range of families, many of them illustrated from live specimens for the first time. Each entry is accompanied by a colour photograph of the species or family, as well as by a distribution map, and includes identification features, as well as notes on the biology, ecology, and related species. It is Picker's first book and Griffiths' fourth; he has already authored or co-authored three marine guides (including the best-selling
Two Oceans: A Guide to the Marine Life of Southern Africa
, written with Professor George Branch and in its fifth impression).
Compiling a field guide to insects of South Africa was not without its difficulties; there are thousands of groups of insects, most with little or no published information. In addition, literally every second species of insects that one encounters in South Africa is unknown to science! It took the authors five years to write the guide, and involved many hours in museums and thousands of kilometres of travel to the furthest flung parts of the country. Importantly, it is also the only insect field guide for Africa, and includes descriptions of insect families also found on the rest of the continent.
The authors' approach to the guide was to make the rich diversity of South African insects accessible to the public, making it intelligible to the layperson, enlivening "even the shortest walk in veld or garden".
However, it contains sufficient depth to be of use to students and fellow entomologists. Biologists, nature conservation officers, game rangers, gardeners, farmers, tourists and anyone who is interested in natural history will also welcome it. The book has been received enthusiastically by entomological colleagues.
Thankfully, the guide was not published before the authors could include a passage and photograph of the latest insect discovery that has entomologists abuzz: the new order
Mantophasmatodea
is the latest insect order to be discovered since 1914. Although specimens were first discovered in the Brandberg in Namibia in 2001, Picker and his team have found them to be widespread in the Succulent Karoo (Namaqualand) and fynbos regions.
---
This work is licensed under a Creative Commons Attribution-NoDerivatives 4.0 International License.
Please view the republishing articles page for more information.
---