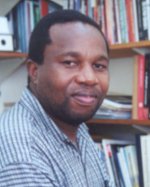 Going up: UCT's new P-rated researcher is Dr Maano Ramutsindela from the Department of Environmental and Geographical Science.
THE Department of Environmental and Geographical Science's Dr Maano Ramutsindela has received a prestigious "P" rating (President's Award) from the National Research Foundation (NRF).
A "home-grown" graduate of and former academic from the University of the North, Ramutsindela joined UCT 11 months ago. He is the University's sole P-rated scientist, joining this select group of 13 young researchers, all under the age of 35.
Researchers in the natural sciences and engineering are evaluated through a process of international and national peer evaluation, managed by the NRF. The President's Award is made annually to a few top young researchers with exceptional potential, and who are recognised by the international community as prospective leaders in their fields of science, engineering and technology at South African tertiary training institutions. The award is valid for five years.
Ramutsindela, who was still digesting the full implications of the award when Monday Paper spoke to him, spent 10 years in the Department of Geography at the University of the North, excluding a three-year "research break" in England where he completed his PhD at the University of London.
His expertise lies in the human and socio-political facets rather than the physical aspects of geography, including land reform and spatial restructuring in South Africa, a country he describes as "one of the world's most divided societies". He is also actively researching transfrontier conservation areas (TFCAs) or "peace parks", such as the Kgalagadi Transfrontier Park between South Africa and Botswana and the Great Limpopo on the South Africa–Mozambique–Zimbabwe border.
It has been a period of highs for the academic. Last year, Ramutsindela's first book, Unfrozen Ground: South Africa's Contested Spaces, was published. But the NRF P-rating came as something of a surprise. "It's recognition of scholarship, but also a challenge to advance my work," he says. "Being re-evaluated in five years will certainly keep me going!" he quipped.
UCT leads the field when it comes to A-rated scientists (12 out of 46 nationally) but these are mostly very senior academics that are close to retirement, said Dr Marilet Sienaert, Director of Grants and Research Development in the Department of Research Development. "Although we are extremely proud of Dr Ramutsindela and what he has achieved, he is currently UCT's only P-rated scientist at UCT, which is a cause for concern. If we are to 'grow our own timber', it is clear that the University has to prioritise putting structures in place to develop and nurture the next cadre of high-level researchers."
Good news is that a new system was recently introduced whereby researchers from the Social Sciences and Humanities (including Architecture and Planning and Law) will also be eligible for rating. "As a performance indicator for quality research, we hope that in future the overall rating for UCT will shift towards a more favourable picture in terms of the number of high-fliers linked to this University," Sienaert said.
Regarding P-rated scientists, the University of Natal leads the stakes with three candidates, followed by the Universities of the Western Cape, Stellenbosch and Pretoria with two each, and the Rand Afrikaans University, the South African Institute for Medical Research, UCT and Rhodes with one each.
---
This work is licensed under a Creative Commons Attribution-NoDerivatives 4.0 International License.
Please view the republishing articles page for more information.
---