"Dworkin is probably the most influential legal philosopher writing in English today"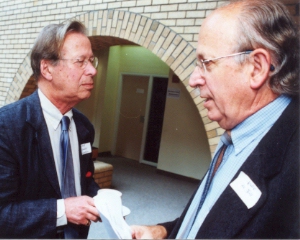 Legal luminary Professor Ronald Dworkin (left) chats with Prof Andrè du Toit of the Department of Political Studies during the former's visit to the University.
THE Faculty of Law scored a scholarly scoop last week when it hosted a visit by Professor Ronald Dworkin, the American academic described as the doyen of modern philosophy of law.
Dworkin was Professor of Jurisprudence at Oxford University in the United Kingdom from 1969 to 2000, and currently holds a joint appointment at the University College London (UCL) and New York University where he is a professor in both the Law School and the Philosophy Department. His extensive and influential oeuvre covers everything from the role of judges exercising constitutional power to the complex relationship between morality and law.
During his time at UCT, Dworkin attended and spoke at a two-day conference during which his writings and ideas came under close scrutiny from an assembly of local and international judges and academics. The local contingent included judges from the South African Constitutional and High Courts and the Supreme Court of Appeal, and scholars from the universities of Wits, Pretoria, Durban-Westville, Port Elizabeth, Stellenbosch and the Western Cape.
Dworkin also delivered a lecture on Academic Freedom Revisited under the auspices of the UCT Academic Freedom Committee. This was his first such presentation in South Africa since he spoke on academic freedom at Wits University in March 1976.
The famed scholar's visit came courtesy of links between the UCT and UCL law faculties. The two-day seminar, in turn, was called for by members of the editorial board of the Faculty's publication Acta Juridica, specifically Associate Professor Anton Fagan and Associate Professor Francois du Bois.
And quite a coup it was for the University, Dean of the Faculty of Law, Professor Hugh Corder, pointed out. "Dworkin is probably the most influential legal philosopher writing in English today," commented Corder.
"He has published three or four incredibly influential books, and there isn't anybody studying law in the English language today – and probably in several other languages – who wouldn't have been confronted with his work and would have had to know something about his work and his approach to law."
And why would such a celebrated scholar agree to visit and speak in Cape Town, South Africa? "It's the most important democracy now for the test of the rule of law," Dworkin replied tersely.
---
This work is licensed under a Creative Commons Attribution-NoDerivatives 4.0 International License.
Please view the republishing articles page for more information.
---