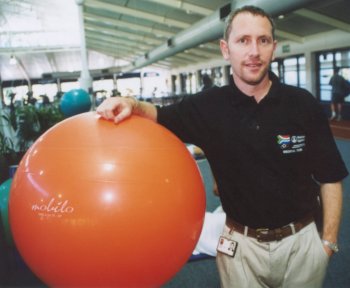 On the ball: Assoc Prof Wayne Derman will lend his sports medicine expertise to Mark Shuttleworth's mission into space this week.
ASSOCIATE Professor Wayne Derman of the Sports Science Institute of South Africa (SSISA) has become the latest UCT staff member to join Mark Shuttleworth for his First African in Space Mission in Russia.
Derman, who spent some time in Russia with Shuttleworth in December and March/April prior to his current trip there, has been appointed as the billionaire cosmonaut's flight surgeon for his ten-day mission into space. As part of his duties, Derman will assist with Shuttleworth's medical testing in the run-up to the flight and ensure that he passes all pre-flight medical evaluations.
Derman will also supervise Shuttleworth's quarantine period – specifically to ensure that no infectious diseases are passed on to the latter – in Baikonur in Kazakhstan, where the launch is taking place. The two will also be in daily communication once the Soyuz is launched, during which Derman will troubleshoot any minor medical problems with his ward.
A lot of work also awaits Derman once Shuttleworth returns to earth. "We have a period of rehabilitation after the flight as these guys usually come back quite sick," he explained.
Most of the medical problems are associated with space motion sickness, and includes some vestibular dysfunction in the ear (balance disturbances), nausea, fatigue and lethargy and the weight loss that usually occurs as a result of loss of appetite. "What happens is that, in space, they're used to having their blood volume equally distributed through their body," Derman noted.
"But what happens when they get down to gravity again is that all the blood pulls into the legs and they get very light-headed and nauseous again when they try to stand up." Also of concern is the loss of bone mass (up to 2-3%) and muscle mass that the cosmonauts will experience because of the absence of gravitational pull on their bones and muscles. "Even when seated, you have gravity that is keeping you in your chair, and you have all these muscles that are contracting all the time just to keep you upright," Derman explained. He and other team members will therefore keep close watch over Shuttleworth's rehabilitation after his return.
Part of his motivation for accepting the post – in addition to seeing Russia in spring – is the new challenge the mission posed, Derman said. "I had to learn quite a lot of aviation and space medicine - the entire concept of micro-gravity environment medicine is still so new - in preparation for this.
"Exercise and sports medicine and physiology is a multi-disciplinary concept which involves physical exercise and dietary and psychological aspects, and this mission has all of these components to it."
Derman is a fellow of the American College of Sports Medicine. He was also the chief medical officer of the South African team that took part in the Sydney 2000 Olympic Games.
---
This work is licensed under a Creative Commons Attribution-NoDerivatives 4.0 International License.
Please view the republishing articles page for more information.
---