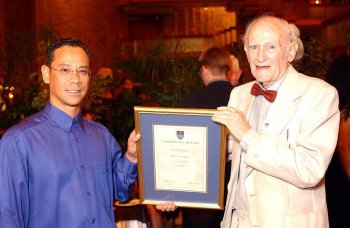 Sterling support: Prof Franklin Larey, Director of the South African College (left), presented a certificate of acknowledgement to Rolf-Stephan Nussbaum, a UCT alumnus, in recognition of his "outstanding and sustained support" to the University and the performing arts over the years. Nussbaum was one of the donors whose contribution enabled the College to buy a new Steinway Grand Concert Piano.
THE SOUTH African College of Music held a special concert with the UCT Symphony Orchestra at the Baxter Concert Hall on March 19 to launch their new Steinway Concert Grand Piano.
The soloists were Associate Professors Graham Fitch and Francois du Toit and the SACM's new Director, Professor Franklin Larey. The conductor was Christopher Dowdeswell. Among the guests was the Minister for Cultural Affairs, Sport and Recreation in the Western Cape Government, Patrick McKenzie.
Speaking at the function, Larey said the College had not purchased a new concert grand piano since 1974. "Our previous piano had deteriorated with age to such a degree that the performance quality was unacceptable. Despite our efforts to rebuild the old piano in 1988, the initiative was unable to counteract the damage incurred both from age and from the extensive use that it was put to."
He said the new piano would enable the College to overcome the many performance constraints experienced increasingly over the years. "This new grand piano not only enables us to deliver performances of a markedly higher quality to the people of Cape Town, but also opens a host of exciting new opportunities for the College.
"These include a series of recordings to be released commercially to build the College's future sustainability; an opportunity for us to bolster our outreach initiatives and increase target audiences due to our capacity to create performance opportunities at the highest level; and a chance for our performing majors to have access to a professional quality instrument that would directly enhance their acquisition of skills."
It was also an opportunity for the Faculty of Humanities and the SACM to thank the 13 donors who contributed towards the Steinway Piano. One of the contributors, Rolf-Stephan Nussbaum, a graduate of UCT, (BScEE, 1941-46), was called forward to receive a certificate of acknowledgement from UCT in recognition of his "outstanding and sustained support" to the University and the performing arts over the years.
---
This work is licensed under a Creative Commons Attribution-NoDerivatives 4.0 International License.
Please view the republishing articles page for more information.
---