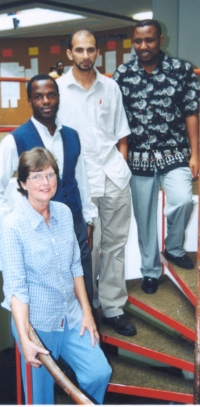 New doctorates: Four of the eight new 2000/01 PhDs in the Department of Religious Studies who celebrated their achievements at a departmental function, were: (from left): Lun Holdness, Malinge Njeza, Auwais Farudeen and Sibusiso Masondo.
THE Religious Studies Department gathered recently to honour the eight new 2000/2001 PhDs among their ranks, a large number for this relatively small unit in the Humanities Faculty.
The new doctors are Dwight Hopkins, Malinge Njeza, Jacques de Wet and Auwais Rafudeen (all 2000), and Graeme Cowley, Lyn Holness, Sibusiso Masondo, and Francis Rakotsoane (all 2001).
Speaking at the event, the new Head of Department, Dr Chirevo Kwenda, said the small department prided itself on producing high numbers of graduates and an equally impressive number of publications. "From our ranks we have also produced two Deputy Deans in the Humanities Faculty: Professors John de Gruchy and Charles Wanamaker," he added.
Zimbabwean-born Kwenda is the unit's first black HOD, having been recruited from Le Moyne College in Syracuse, central New York, where he was an assistant professor of Religious Studies. Kwenda obtained his PhD in History of Religion, specialising in African Religion, from Syracuse University in 1993.
"The department at UCT had undergone some shrinkage, mainly due to natural attrition with staff moving abroad and to other institutions. But we're slowly building up again, with student and staff numbers on the increase." This is in line with Kwenda's goals for the next three to four years, these focusing on visibility, audibility and credibility.
---
This work is licensed under a Creative Commons Attribution-NoDerivatives 4.0 International License.
Please view the republishing articles page for more information.
---