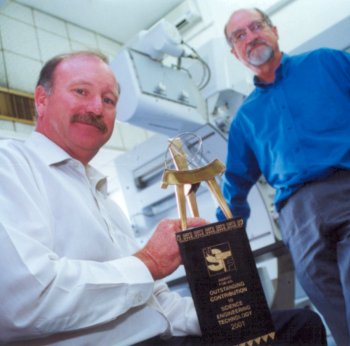 Picture perfect: Professors Kit Vaughan (left) and Gerhard de Jager won a weighty trophy – and a special place at a gala dinner – from the National Science and Technology Forum (NSTF) for their innovations in medical imaging.
UCT PROFESSORS Kit Vaughan and Gerhard de Jager have been fêted by the National Science & Technology Forum (NSTF) for their outstanding contributions to medical imaging, receiving one of the organisation's prestigious science and technology awards at a gala dinner in Johannesburg in early May.
Vaughan, professor of biomedical engineering at UCT, and De Jager, professor of electronic engineering, won top honours in the category for individual research and innovation over the last two years. They did so specifically for their collaborations on two Innovation Fund projects, namely the design of low-dose X-rays to perform limited angle computer tomography (with De Beers), and the development of smart digital cameras with Electronic Development House (EDH) in Stellenbosch.
The colleagues - they first met exactly 30 years ago as student (Vaughan) and supervisor at Rhodes University - were also cited for their work as co-investigators in the Medical Research Council/UCT Medical Imaging Research Unit, based in the Department of Human Biology. Professor Cyril O'Connor, together with former Deputy Vice-Chancellor, Dr Sibusiso Sibisi, nominated the duo for the honour.
In making the award, the NSTF made special mention of, among other aspects, the relevance of Vaughan and De Jager's research to South Africa, its many commercial applications (which will also augment UCT's coffers) and the national and international recognition they are attracting for their work. Their low-dose X-ray project, among other things, "is proof that groundbreaking research can be done and successfully commercialised in South Africa", the organisation noted in a recent press release.
"This is about partnerships," says Vaughan of the research he and De Jager are doing. "The recognition is not just for us, but also for our students."
The award will also serve as a nice segue into the imminent launch of the Allan Cormack trust, which will support a number of the above award-winning projects on medical imaging. Vaughan has been endeavouring for some time to establish the Trust, which will honour UCT's Nobel Prize-winner whose research in the 1950s led to the original development of the now ubiquitous CT scanner.
---
This work is licensed under a Creative Commons Attribution-NoDerivatives 4.0 International License.
Please view the republishing articles page for more information.
---