Jonathan Burchell, Professor of Criminal Law and head of the department of Criminal Justice at UCT, unpacks some of the options facing South Africa's criminal justice system.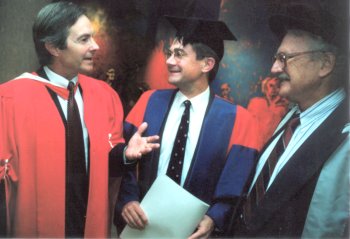 Talking criminal justice: Professor Jonathan Burchell (left), head of the Department of Criminal Justice, in conversation with Dean of Law Professor Hugh Corder (centre) and Professor Wieland Gevers, Senior Deputy Vice-Chancellor, after delivering his inaugural lecture this month.
Burchell, Professor of Criminal Law and Head of the Department of Criminal Justice at UCT unpacks some of the options facing South Africa's criminal justice system
In his inaugural lecture – entitled Criminal Justice at the Crossroads – Jonathan Burchell, Professor of Criminal Law and Head of the Department of Criminal Justice at UCT, last week explored some of the options facing the apparently ailing system of criminal justice in South Africa.
Burchell warned against a "blunderbuss" resort to criminal legislation and a simplistic cry for harsher sentences. "In a system where, in 1996, approximately 11% of all reported crimes were prosecuted and 8% of these reported crimes resulted in conviction, focus on the creation of new offences that are costly to implement, combined with baying for ever harsher punishments and a reduced judicial discretion in sentencing, merely obscures the real challenges," he said.
These challenges include improving the investigation and detection of crime and the clear prioritisation of categories of violent criminal activity, he added. "Overly complex definitions of criminal liability, an obsession with a subjectively-defined concept of criminal capacity and intent, the refusal of some citizens to 'buy into' the criminal process or even confront their own guilt, merely exacerbate the already critical predicament facing the criminal justice system in South Africa."
Burchell suggested that the criminal law must set its course by the norms of Constitutional criminal justice and re-instate objective standards for criminal behaviour, especially in regard to violent crime brought about under the influence of intoxication, compulsion and provocation. He exhorted the system of criminal justice, "through its definitions and processes, to encourage genuine feelings of criminal guilt, to re-affirm degrees of guilt and to restore the rights of victims to their rightful place".
Said Burchell, "criminal justice must be taught, researched and applied holistically, taking into consideration the substantive, procedural, evidential, criminological and international dimensions".
The Department of Criminal Justice at UCT combines strengths in all these fields and provides an ideal environment in which to foster such holistic endeavours, he noted.
He argued that the formal, state system of courts, exerting compulsory jurisdiction and staffed by personnel trained in evaluating evidence, provide the best chance for achieving justice between state and individual in serious cases.
"However, tempering the predominantly accusatorial system of criminal procedure with a healthy dose of the inquisitorial can only improve the balance between the rights of the accused and those of the victim," Burchell indicated. "Furthermore, inspiration for the resolution of less serious offences can be found in an appropriate blend of informal, non-state options, based on restorative justice or reconciliation, and civil-law options, used as complementary remedies."
According to Burchell, it is not so much the criminal justice system that is sick at the moment. "The malady lies essentially with those who blame the fabric of the criminal law system and its due process requirements for our current parlous criminal predicament.
"These critics fail to recognise the real issues," he said. These include inadequate human and financial resources for police in the investigation of crime; a similar deficiency in the prosecutorial service leading to a backlog of criminal cases; and the breakdown, over decades, of structures facilitating interconnectedness in society.
Several more
inaugural lectures
are scheduled for delivery in 2002.
---
This work is licensed under a Creative Commons Attribution-NoDerivatives 4.0 International License.
Please view the republishing articles page for more information.
---