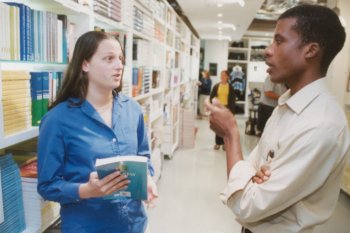 Book knowledge: Michelle Diab and Fortune Mojapelo ar using their academic learning to practical effect in the UCT Ikey Store.
THE OPENING of the Ikey Store, formerly the UCT Bookstore, has heralded the latest chapter in the growth of student entrepreneurship on campus.
The bookshop is owned by UCT Student Enterprises (UCT has a minority stake), which in turn forms part of the newly-registered Student Enterprises Trust founded by former SRC President Fortune Mojapelo. The Store is run and managed by UCT students, notably store CEO and business science student, Michelle Diab.
It also employs a group of students – as cashiers – who help out the contingent of staff who moved from the UCT Bookstore to the Ikey Store following the change of proprietorship.
The outlet is the second enterprise managed by UCT Student Enterprises; the other is a publishing business, The Roofhouse, whose young band of designers have already come up with an award-winning CD cover for local band Just Ginger, among other things.
According to Mojapelo, the two businesses are a testimony to the potential of students to run profitable enterprises and is a much-needed platform from which to develop their entrepreneurial abilities. "The primary vision of the Student Enterprises Trust is to encourage entrepreneurship among students within the tertiary sector in South Africa," he says.
After all, he adds, students operate in institutions whose main business is ideas and the creation of knowledge.
"If entrepreneurship has to do with turning ideas into viable companies or operations, it follows logically that the one place one would expect to find a lot of entrepreneurial capital is at a university or technikon."
The Trust will encourage student entrepreneurship through four focus areas, namely innovative educational programmes, business development, special projects and student businesses.
---
This work is licensed under a Creative Commons Attribution-NoDerivatives 4.0 International License.
Please view the republishing articles page for more information.
---