The University of Cape Town's (UCT) Chancellor Oppenheimer Library was a hive of activity as the UCT Press Board, members of the Leadership Lekgotla and other university delegates gathered to celebrate the homecoming of UCT Press.
Launched in 1994, UCT Press holds a proud history as one of the institution's outlets for scholarly publishing. For more than two decades the press has been managed by publishing house Juta and Company. But it is now back home and managed by UCT Libraries. What's exciting and fitting for this digital age is that the press takes on both a print media and open access mode, with print-on-demand.
This approach is in line with the press's initial vision: to harness the new technology of the time while focusing primarily on digital print-on-demand. However, in 1994, this vision was far ahead of its time, and for a few decades UCT Press focused on printing books, which were then sold to libraries, bookshops and book distributors, both nationally and internationally. To date, UCT Press has published close to 200 titles that range in subject matter, including archaeology, biotechnology, economics, gender studies, politics and psychology.
"This is indeed a big day for UCT Press and UCT – the day we formally bring UCT Press home and relaunch it at UCT," said Professor Sue Harrison, deputy vice-chancellor (DVC) for Research and Internationalisation.
"In having social responsiveness as part of our [UCT's] vision and mission, publishing open contributes to this mission by sharing scholarship for the growth of society. We see this open access to scholarship as a potential contribution to the advancement of the academy, be it at UCT or any other institution in this country and on the continent."
Rethink, reimagine
Professor Harrison said the multi-year period under Juta, with peer review provided through UCT, allowed the university to build and develop the press. But it failed to flourish and develop to its full potential. Therefore, when suggestions were tabled to rethink the press, the board embraced them. And through a careful planning and analysis phase, a model that enables the press to pivot towards open access publishing, while maintaining print-on-demand publishing, was introduced.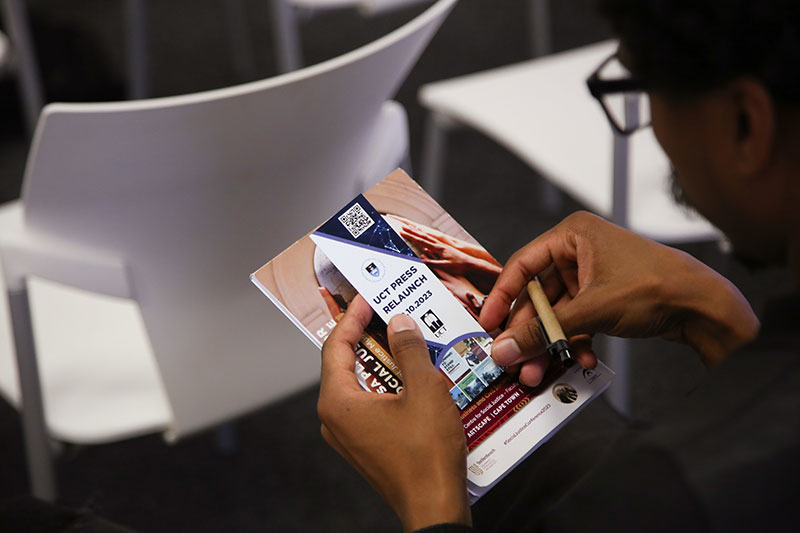 "The diversity in academic publishing needs and the history of UCT Press as a publisher of hard copy materials have guided this integrated route forward, in which we plan and will work towards increasing open access publishing as a mainstay of UCT Press, but also facilitating a print-on-demand approach," she said.
UCT's open access policy is an important part of the institution's social justice agenda. It ensures that scholars' research is widely accessible to the public and also removes several barriers that exist for traditional academic print publishing media. These barriers, Harrison said, restrict Africa's knowledge generation from "taking its rightful place" and are particularly punitive to knowledge sharing between Global South nations. She also noted that the new approach closely aligns with the theme of this year's International Open Access Week, which encourages dialogue and new approaches to open scholarship that enable universities to prioritise both the public and academic community's best interest.
"Our new model of the UCT Press is taking back our scholarship from commercial entities and making that accessible to all Africans who have access to the internet. In so doing, UCT Press ensures no compromise on academic rigor. There's an explicit commitment to uphold the highest academic standards," Harrison said.
A space of intense inquiry
The afternoon's keynote speaker, Emeritus Professor Crain Soudien, a former UCT DVC for Transformation, Student Affairs and Social Responsiveness, dedicated a large part of his address to unpacking questions around the financial sustainability of university presses. Emeritus Professor Soudien said that in recent times, and to keep up with a modern digital-driven world, university presses globally (including developed nations) have been forced to diversify in order to remain financially viable. Interestingly, he said, some have even acquired commercial presses and have started to publish popular books – taking on work from renowned fiction authors.
Yet despite this, in South Africa, university presses are gaining momentum. He said Nelson Mandela University, the University of Johannesburg and the University of the Western Cape are all in the process of evaluating and establishing its feasibility. And the one thing local universities have in common with their international counterparts is the question around the financial sustainability of the press. Soudien advised institutions facing the prospect of financial ruin to let go, and those in a stable financial position to keep trying to make it work.
"[If financial circumstances are different] there's absolutely no question about trying, trying as hard as you can because of the critical contribution this institution plays inside a university. And hopefully not just for its own members of staff. Critically, what it does is beyond decolonisation. It keeps open a space of intense inquiry. No other press is easily going to make that commitment," he said.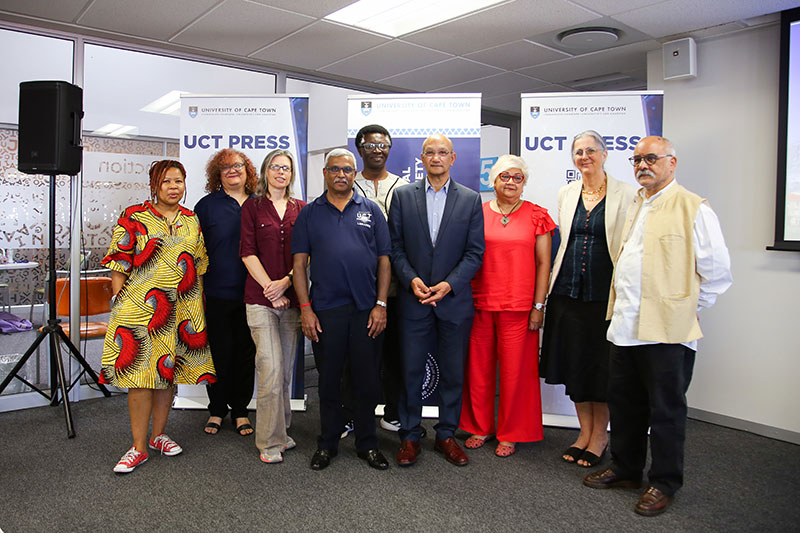 With the return of the press, Soudien said mistakes are inevitable. But he urged UCT to "stay the course".
"I'm asking that you have the courage to be able to stay the course. To hold onto this particular role that we are playing here of talking into the world from this vantage point, where we can see things that other people can't see … particularly around these questions of inequality. We are going to stumble, but I'm going to ask here that we keep trying to make this work."
Shaping and leading change
When Vice-Chancellor interim Emeritus Professor Daya Reddy took to the podium, he told guests that the return of the press is a re-expression of the university's commitment to shape and lead change. And the model has been designed not to be a final scholarship destination, but an incubator for growth, knowledge, ideas and inspiration.
Currently, the press catalogue runs 64 titles which, Emeritus Professor Reddy added, is tiny when compared with mid-sized university presses around the world. However, it presents an overview of scholarship that straddles multiple disciplines.
But why is a university press important? Reddy said because it benefits the academic community, as well as the global knowledge ecosystem. What's more, anyone around the world who needs informed and engaged peer-reviewed scholarship has easy access. And in a world overloaded with social media content of uncertain reliability and "dubious intentions", he said publishers, publishing houses, presses and editorial boards that uphold high standards of rigor, integrity and intellectual freedom are critical.
"I call on members of the university community to embrace the opportunities that we have through UCT Press."
"UCT Press is a key contributor in the world of scholarship [and] I certainly hope that as the press evolves, we must do everything that we can to ensure that [it] flourishes. I'm delighted to have learned about what has been imagined and what has come to fruition in a really exciting form. [And] I call on members of the university community to embrace the opportunities that we have through UCT Press.
Others who contributed to this event included Ujala Satgoor, the executive director of UCT Libraries, as well as members of the UCT Press Board, including Associate Professor Polo Moji; Associate Professor Divine Fuh; Dr Jane Battersby; and Dr Reggie Raju. Members of the UCT Press Board delivered their comments during a panel discussion curated by Associate Professor Moji.
---
This work is licensed under a Creative Commons Attribution-NoDerivatives 4.0 International License.
Please view the republishing articles page for more information.
---