At just 22, Alex Pasqualli is juggling many balls. She's a multi-parasport enthusiast with a jampacked weekly training schedule; an entrepreneur who runs a successful start-up; and a singer and song writer who makes time for gigs as and when they come up. She's also an aspiring academic who's currently pursuing her honours in linguistics at the University of Cape Town (UCT) and has big plans to tackle her master's next.
For those on the outside looking in, it seems that Pasqualli has everything under control. But it's taken some tough grind and the occasional bawling her eyes out to get here. As a student with a disability and a first-generation university graduate, the societal and indirect family pressures are enormous. After all, she said, there's nothing like seeing those you love most beam with pride, and knowing you're the reason is motivation to keep going.
"So, despite the odds, you move with your head held high. That's my mantra – paddle frantically and like a duck, just make it look easy to others. Really, anyone can do it, just believe," she said.
Pasqualli's story is one of strength and resilience. She's stood tall in the face of adversity and has kept her eye firmly on the prize. When others said: "It's not possible", she proved that it was, and continues to do exactly that. She is one of the extraordinary youth UCT News is shining the spotlight on this month; young people who have excelled despite countless odds
A rare genetic condition
Pasqualli was born with diastrophic dysplasia – a rare condition that affects the body's cartilage and bone development. At the time of her birth in 2000, doctors said she was the only known infant in the country with the condition. People living with diastrophic dysplasia are short in stature (they have short arms and legs) and experience early onset of joint pain and joint deformities, which restrict movement. These challenges make walking difficult and worsen with age. The condition is believed to affect one in 500 000 newborns.
During the first few years of Pasqualli's life, she required multiple operations to aid her mobility and improve her quality of life. As a young girl, she also travelled to Finland with her parents, where they met an expert medical team who understood the condition a lot better than doctors in South Africa at the time and were able to clarify and answer certain questions.
"Essentially, it was all trial and error – for the doctors and for my parents."
"Essentially, it was all trial and error – for the doctors and for my parents. Everyone was looking for answers. There was a lot of research and discussions to understand the condition better in order to support me on this lifelong journey," she said.
And while Pasqualli no longer needs to endure invasive surgery, check-ups with her doctor and sessions with her physiotherapist take place regularly. Over the years, she has also developed scoliosis (curvature of the spine) and these check-ups are important to keep her pain levels under control.
Barriers don't get in the way
But as a child and even as a young adult, Pasqualli has not allowed her disability to get in the way of achieving success. And she credits her parents for nurturing this "can-do" attitude.
"I don't let barriers keep me from doing the things I want to do. My parents are very supportive and are always there reminding me that they are proud of me. The only real pressure to do better and better comes from myself. I always want to exceed my own expectations," she said.
And thus far she has. Pasqalli attended a mainstream high school and the only drawback was the lack of parasporting codes available to learners with disabilities. As a sport enthusiast who enjoys being active, she missed participating in different sports at school. But luckily, she found other ways to keep busy and would spend time in the gym and the swimming pool.
"I just love being active and I participated in athletics throughout primary school. My favourite sports were shot put, discus and javelin. When the time came to attend a mainstream high school, participating was no longer possible because they didn't offer parasport. So, I had to find other ways to stay active," she said.
Pleasantly surprised
When Pasqualli completed her undergraduate degree (cum laude) at the University of the Western Cape and made the decision to enroll for her honours at UCT, she was pleasantly surprised to discover UCT's ParaSport Club and signed up immediately. There she was first introduced to wheelchair rugby, and after playing her first friendly game a few weeks ago, she is hooked.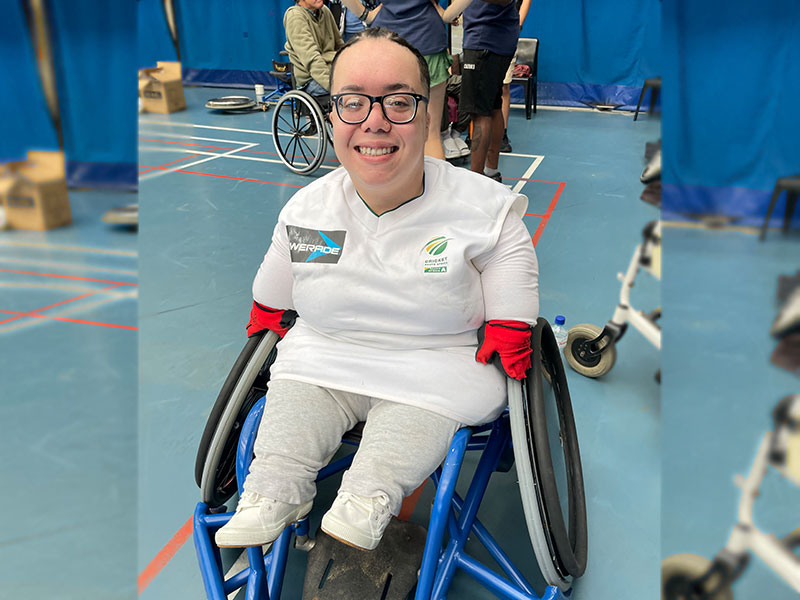 As a new member of the ParaSport Club, Pasqualli believes that it's the foundation she needs to help her fulfil her childhood dream of participating in the Paralympics. And the groundwork to attain that goal has started. Pasqualli is currently working hard at getting her body back in shape and with the help of her coach, and heaps of determination, she is well on her way. A rigorous weekly training schedule that focuses on strength, conditioning and endurance keeps her on top of her game.
"I am so excited to be back and that I'm working towards participating competitively again," she said. "I love all sport, not just the codes I participate in. I love the intensity of it all. I love the feeling of playing for the supporters – it always pushes me to perform at my best. Sport also teaches me discipline, focus and hard work. It would be fun to see how far I go. Who knows, the Paralympics might be on the cards."
A go-getter
In addition to her sports schedule, a list of other things keep Pasqualli occupied. This singer and songwriter who is besotted with music, has already professionally recorded a few covers and her own single, which she wrote herself. Pasqualli said she shares her deep love for music with her parents and extended family, who use any excuse to sing, play musical instruments and dance.
Three years ago, she also started With Pride – a start-up that aims to raise awareness on the LGBTQIA+ community, as well as the challenges people with disabilities face, using custom-made apparel. Pasqualli designs artwork for each piece of clothing based on her clients' needs and requirements. Over the years her business offering has evolved, and today includes content creation, motivational speaking, influencing and business promotions.
"I've always had this 'hustler' mindset and like doing things at my own pace."
"I think what I enjoy most about being an entrepreneur is working for myself and making my own money. I've always had this 'hustler' mindset and like doing things at my own pace. I am in charge of everything that happens – good or bad. And what's also great is that through my business, I'm contributing to the job market. I can't do anything without my seamstresses, those who do my printing and most importantly, all my supporters," Pasqualli said.
Showing gratitude
Despite the countless obstacles Pasqualli and others with disabilities face, she said it's important to show gratitude. The little things like a loving family, a close group of friends and even your personal and academic achievements should be celebrated and never taken for granted.
Although, she acknowledged that life for people with disabilities is not a walk in the park. Issues around accessibility continue to remain one of her biggest challenges. She said despite ongoing awareness on the importance of creating inclusive spaces in Cape Town, these are limited and prevent people with disabilities from enjoying recreational spaces, restaurants, and schools and universities.
"Most times I will find an alternative way in which to access a space, even if it means being lifted, I really don't mind. But not everyone shares my personality and someone else may feel inadequate. It's so important that we create inclusive spaces and places for everyone in the community to enjoy. Someone should not be deterred from accessing spaces because they are wheelchair users," she said.
Stay focused
Pasqualli recognised that young people in South Africa face an array of challenges – societal pressures, social norms and internal insecurities are just some them. But she urged them to keep going and to find the light at the end of the tunnel.
"It's cliché but stay focused and don't stop believing that you can do it. Once you've found your purpose keep it as the centre of everything you want to achieve for yourself and trust me, you'll get there," she said.
"Keep your cup filled because if you don't, who will?"
"I know it's so easy for our generation to feel lost and like you don't belong. So, stand out and be different – why fit in when you are born to stand out? Don't adjust to social norms. Instead, challenge it, and who knows, you may make a difference in someone else's life. Do what feeds your soul. Keep your cup filled because if you don't, who will?"
Get in touch with Alex Pasqualli on social media: Instagram @alex_pasqualli; TikTok: @lexxip11; and Facebook: Alex Pasqualli.
---
This work is licensed under a Creative Commons Attribution-NoDerivatives 4.0 International License.
Please view the republishing articles page for more information.
---