In 1923, exactly a century ago, the apartheid government's Native Urban Areas Act's mandate was clear: it aimed to segregate urban residential spaces and impose "influx controls" by preventing black South Africans from accessing cities and economic opportunities.
That same year, the government established KwaLanga – a township located on the outskirts of the City of Cape Town – roughly 11 km from the central business district. The township, which was built in phases, was not considered a resident's paradise. The informal structures designed for residential living were ragged; the roads were unpaved; and the electricity supply was non-existent. But the people of KwaLanga did not accept these conditions lying down. They mobilised and consequently played an integral role in the apartheid resistance movement and the fight for a free South Africa. Despite a turbulent time in the country's history, the community went on to produce some of the world's most-loved and respected musicians, such as singer and songwriter Brenda Fassie, and acclaimed jazz musician Louis Moholo-Moholo – a testament that the atrocities of apartheid could not stifle their extraordinary talents.
As KwaLanga celebrates its centenary this year, the University of Cape Town (UCT) looks back and reflects on some of the past and present work that staff, students and alumni have undertaken in the community over the years. One such example is the Louis Moholo-Moholo Legacy Project, co-curated by Nkululeko Mabandla, a lecturer in UCT's Department of Sociology and research associate in the Centre for African Studies. The retrospective was carried out in partnership with photographer and filmmaker Paul Weinberg.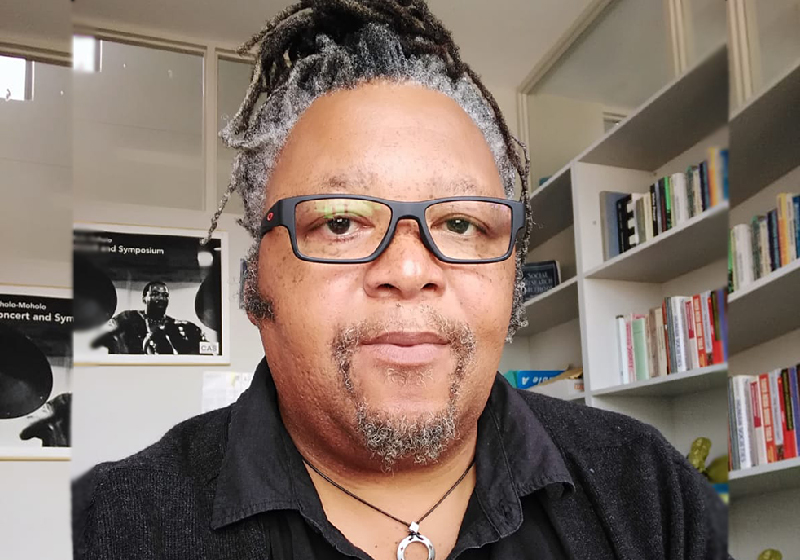 "Is the KwaLanga centenary really a celebration? In some ways it is because KwaLanga was never just a township that provided the exploited black labour force a place to sleep. It's a community with such a rich history that went on to become a source of nourishment for its people during very dark times. It's a place that anti-apartheid activists, poets and musicians like Bra Louis call home," Mabandla said.
Jazz musician extraordinaire
Moholo-Moholo is a South African jazz drummer, and one of the founding members of the Blue Notes band. He has also been a member of a few other distinguished local bands, including the Brotherhood of Breath, and Assagai.
"Bra Louis's legacy remains hidden to so many South Africans, especially the younger generation."
He went into exile in 1964 and settled in London. There, he made a significant contribution to British jazz. In 2004 he received the National Order of Ikhamanga in Silver from former president Thabo Mbeki for his contribution to the arts. A year later, in 2005, he returned to South Africa and settled in his hometown where he still lives today.
"Bra Louis's legacy remains hidden to so many South Africans, especially the younger generation, because of the political history of this country, which led to him spending such a long time in exile. Therefore, one of the objectives of this legacy project was to bring these hidden stories and his history into the light," Mabandla said.
Legacy project
Curated in 2016, the project celebrates the life and times of Moholo-Moholo by showcasing his extraordinary work as one of the most revered sons of the African soil. The project comprised a special symposium, which highlighted the social and political histories and contexts in which artists of Moholo-Moholo's generation emerged, lived and worked, and continue to live and work today. The project encapsulates his four-decade career in a single, unique exhibition.
"Bra Louis's contribution to music and to free jazz has been immense. We have not begun to grasp it all. So, the idea behind the project was to share this legacy with people at the university and in the broader Cape Town and South African community," Mabandla said.
The exhibition took an intimate look at his life and was based largely on his personal archive, which included ticket stubs, promotional material showcasing his musical gigs across the world, press clippings and magazine front covers, backstage passes and musical instruments, as well as record albums and the many awards presented to him over the years. In addition, the retrospective also featured audio-visual material and recorded conversations between Moholo-Moholo and other musicians who had worked with him over the years.
Unique endeavour
On what makes the retrospective unique, Mabandla is clear: "We have featured a legendary figure who has made a tremendous contribution to music and free jazz globally." But above that, he said documenting Moholo-Moholo's one-of-a-kind story, his formidable spirit, and how he handled living in apartheid South Africa, and later in exile – far from the community and the people he loved most – was what Mabandla considered most meaningful.
As part of the exhibition, he said the team also compiled a catalogue of Moholo-Moholo's recorded work as music lead, session musician and as a collaborator with other musicians.
"As we compiled this catalogue, we came across more than 100 recordings – that is absolutely incredible. Not many musicians have done that. Just think of any other top artist and have a look to see how many recorded works they have. This shows you exactly who Bra Louis is: a maestro, who is appreciated the world over and who is highly regarded by his peers," he said.
Music legend, teacher, storyteller
Mabandla said working alongside this great storyteller who has a sharp sense of humour has been an honour, a privilege and a humbling experience.
"On this centenary anniversary of KwaLanga, it's befitting that we honour his contribution to the community, to the people of South Africa and Africa, and the world."
The experience has also allowed him to nurture a close bond with Moholo-Moholo that has often included long conversations on his balcony in KwaLanga. These conversations, Mabandla added, have sprouted a new project, which focuses on the role of drumming and rhythm in free jazz, and which will be executed in partnership with UCT academic Ana Deumert. The idea, he said, is that this work opens new avenues for research, while continuing to celebrate Moholo-Moholo's life.
"It was a stroke of good fortune that this legendary figure had agreed to be part of this exhibition and that he is open to continuing this collaboration in an albeit different form. His generosity is unmatched," Mabandla said. "On this centenary anniversary of KwaLanga, it's befitting that we honour his contribution to the community, to the people of South Africa and Africa, and the world."
---
This work is licensed under a Creative Commons Attribution-NoDerivatives 4.0 International License.
Please view the republishing articles page for more information.
---