"The mother of the faculty", "A blessing to many", "The glue between students and staff" … When Mary Hilton announced her early retirement at the end of 2022, the cascade of tributes was diverse. But all carried one message. After a career of almost three decades at the University of Cape Town (UCT), under the helm of five vice-chancellors and three Faculty of Engineering & the Built Environment (EBE) deans, Hilton shaped scores of young lives.
In her role as faculty manager: communications development and marketing, which later included student support and leadership, Hilton was there to help them unleash their potential, long before it became the heart of UCT's Vision 2030.
For some it was a long haul. But Hilton made sure they got what they needed to graduate, even if it took eight years. She was driven by the question she asked herself each time a student in distress knocked on her door, broke, uncertain, homesick, or bereaved: "If this were my child …"
No stone unturned
The many outpourings of thanks on her LinkedIn page show that a matriarch's heart was at work. She saw the hidden gem in each student who came to her for help.
As one wrote: "No words can describe your impact in the faculty. You wanted better for every student, which inspired us to want better for ourselves and [our] community."
Typically, Hilton left no stone unturned to help, especially those students who arrived at her door, acceptance letters and suitcases in hand, but without funding or accommodation. She coaxed funders and benefactors, cajoled colleagues in student housing and the student financial aid office – whatever it took to secure their place at UCT.
"If it weren't for my husband [drawing firm boundaries], my house would have been full of makeshift beds for students!" said Hilton.
Agility and determination
Hilton joined UCT in 1993 as a part-time student recruitment assistant.
"I had no idea what hours I was going to work or what my job was going to be. But that was my first introduction to [prospective] students. I was visiting high schools to recruit applicants, speaking to parents and teachers about UCT."
After getting the job as student recruitment officer, she was on her way.
"I loved it," she said.
In early 2000 she joined UCT's Communication and Marketing Department as a faculty liaison officer. It was a new job but proved too big for one person. Hilton applied for another newly created post, this time as a faculty communication and marketing officer, initially working half days for Science and EBE.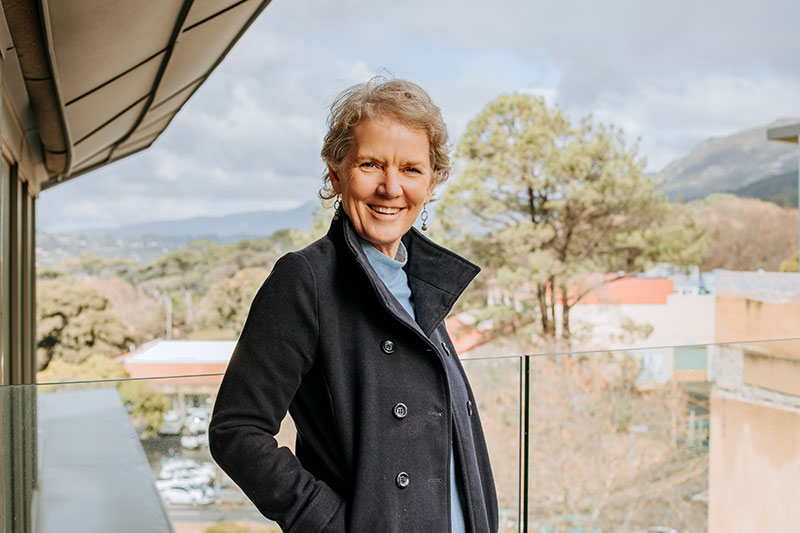 But as the then EBE dean, Professor Cyril O' Connor, began to give Hilton more and more work, she moved to the faculty fulltime. At the end of her first year, Professor O'Connor invited her to create her own job description.
That job, which encompassed relationship building and management, continued to change over the years. Later, working with dean, Professor Francis Petersen, Hilton was involved in several large projects such as the World Design Capital (Cape Town was officially designated World Design Capital 2014), and its spinoff, the Future Foreshore project, in partnership with the City of Cape Town.
Students in distress
In 2015, the Rhodes Must Fall campaign took off at UCT. The spotlight was on decolonising the university, with transformation at the core. Under EBE dean, Professor Alison Lewis, the faculty started the EBE Students in Distress fund in response to the overwhelming call for assistance.
"I really am in awe of the agility and the determination of these young people who fight to stay in the system."
"Because of the need and what was going on in the university, it became my focus," said Hilton. And it has been her greatest joy.
"I really am in awe of the agility and the determination of these young people who fight to stay in the system and manage to graduate against all odds. And the mental health issues are real. So, it's just finding the time to come up alongside them and say, you know, it's okay. You're gonna be okay."
Here Hilton says she has been privileged to work closely alongside colleagues such as Nazeema Ahmed, the faculty's clinical psychologist and dedicated student counsellor.
But the first time Hilton "really got involved" in helping students in distress was in 2006.
Just after she had joined EBE, O'Connor brought a young man to see her.
Michael Tladi had been abandoned by his mother at the age of five. He'd barely survived on the streets of Tshwane, eking out an existence. He later turned to crime.
But an encounter with a youth pastor who ran shelters for the homeless turned his life around. As a result, Tladi went to school and arrived at UCT in 2001. He didn't speak English. He'd been rejected by other universities and colleges. And he had no money. But he was hungry for education. He wanted his life to count, said Hilton.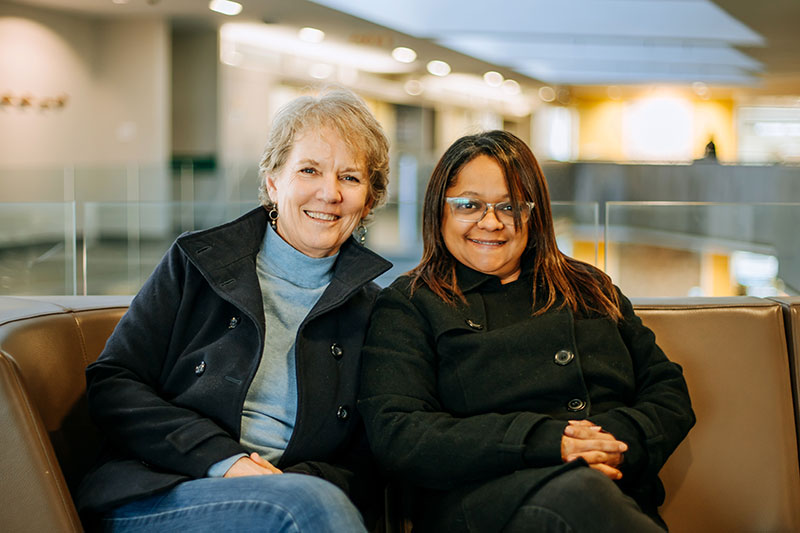 It would take a team effort from academics, psychologists and the dedicated staff at Student Financial Aid to see Tladi graduate. His story captured the media at the time. Tladi is now working as an engineer in the Department of Public Works. But their relationship endured.
"Michael became my adopted son, and I am now gogo to his baby daughter, Mohau," Hilton said.
Sweet spot
Hilton's long UCT career has seen her work in five different buildings, from lower campus to upper campus: Welgelegen, Kramer Law Building, Menzies Building, PD Hahn, and finally the New Engineering Building.
She has so many other stories to tell. As she wrapped things up, Hilton paid tribute to an "amazing" network of professional administrative and support services (PASS) staff, who have been rock solid in their support over the years: traffic services, classroom facilities and cleaning services.
These were her "tjommies" across the university who no doubt sensed and understood what drove her – and rolled up their sleeves to help when she was in a spot.
A few days before leaving, gifts arrived from students and colleagues: cakes, flowers, handmade soaps in the shape of stars and an appliqued T-shirt crafted by a student designer.
There are wonderful memories, she reminisced. But relationships with students haven't always been easy.
But never were these as strained as in 2015/2016. At the frontlines when student protests swept upper campus following the Rhodes Must Fall and Fees Must Fall campaigns, Hilton was frog-marched from her office by those she had dedicated a career to serving. The sense of betrayal was acute, she said, and she suffered a breakdown in the aftermath. The memory is still painful.
New purpose
She has planned a sabbatical – "I'm going to take a big breath" – to firm up her next move.
On her way to work in the mornings, in the prelude to leaving, Hilton listened to a podcast about finding purpose in retirement.
"I'm going to carry on doing what I love: engaging with young people."
She is clear about that. Her purpose lies in her community of Hout Bay, among the youth, school goers and school leavers who need guidance and help to navigate the complex processes of applying for further education, career guidance and mentorship; growing the next pool of human potential.
"I'm going to carry on doing what I love: engaging with young people," she said.
Hilton is also keen to join local conservation and rehabilitation group Friends of the Rivers of Hout Bay. She will also take time to capture her 93-year-old mother Polly's hand-written memoir: a chronicle of growing up on the Canary Islands, moving to England when the Second World War broke out, and life as a farmer's wife in southern Africa. These are histories that must be held for future generations.
But it's adieu for now.
Hilton will be back in the new year to help her replacement settle in and again in March to celebrate two of her students' graduation ceremonies. She loves the festivity and celebration that is now part of the graduation experience at UCT. Hilton has already learnt to ululate "like a rural child", as Vice-Chancellor Professor Mamokgethi Phakeng put it, and demonstrated at this year's retirees' dinner, where Hilton delivered the vote of thanks on behalf of the retirees.
She has promised to buy a new dress for that special occasion.
And no doubt there will be new shoes to step into.
---
This work is licensed under a Creative Commons Attribution-NoDerivatives 4.0 International License.
Please view the republishing articles page for more information.
---