You could hear a pin drop in the science lab as geology graduate Simphiwe Ndlovu explained how a pen can be used to determine the polarity of an electromagnet, and then the boys' hands were up: "Sir, Sir," and the questions came. At Rondebosch Boys' High School to do the practical element of the University of Cape Town's (UCT) one-year Post Graduate Certificate in Education (PGCE), which aims to turn graduates into innovative teachers, Ndlovu answered questions with care and calm.
The PGCE is the only qualification that allows graduates with degrees other than a Bachelor of Education professional registration with the South African Council for Educators and access to a high school teaching career.
"Simphiwe is a natural," said Dr René Toerien of Rondebosch Boys' High School's Physical Sciences department, and professional development unit. "You can be taught to become a teacher, but there are those to whom it comes naturally."
And yet teaching was not Ndlovu's first choice, he said, perched on a high stool in the school's lab alongside fellow PGCE students, Violet Maluleke and Thobeka Mngadi.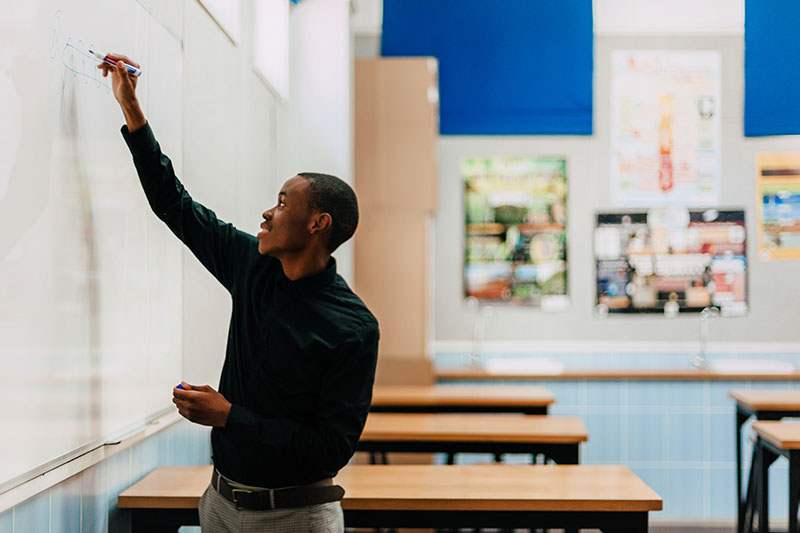 Instead, he had graduated with a Bachelor of Science in Applied Geology from the University of the Western Cape (UWC).
"In matric I didn't know what I wanted to do," he said. "People always advise you to do what you enjoy. I loved geography so I researched jobs in the field, came across geology, and applied to do that.
"But during my three years at UWC I also worked as a tutor, and I realised I was much happier teaching than in the field. I was happier working with other people. After I graduated, I applied for the PGCE straight away."
Discovering teaching through tutoring
"It is amazing how many students discover a love of teaching through tutoring," Dr Toerien said.
Maluleke, who has a Bachelor of Science in Microbiology and Biochemistry from the University of Venda and a year's internship experience in a chemistry lab at the Vaal University of Technology, agreed.
"At first I loved working with microbes and being in the lab, but that changed," said Maluleke. "At the time I used to help children with their homework and I realised that I was really able to help with their deeper understanding and that I would make a great teacher.
"My love for children and teaching has made me develop a passion for it. I love working around kids; the environment does it for me. I love explaining things, standing in front and teaching them," she said, adding that natural and physical sciences are her favourite subjects.
Mngadi, on the other hand, has come to teaching via an interest in psychology, fuelled by watching a documentary while in matric on how psychologists, who'd discussed their cases on film, were able to help people.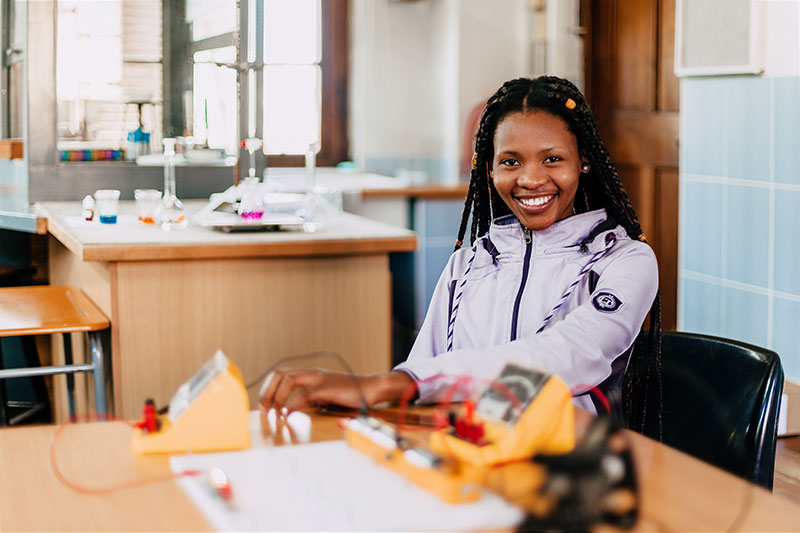 Now a graduate with a Bachelor of Arts in Psychology, Geography and Politics from UWC, she said: "It was while busy with my degree that I realised that as much as I loved psychology, my real interest was in child psychology and educational psychology, and working with kids, how better to prepare for this than getting experience as a teacher?
Her ultimate goal is to obtain a master's in educational psychology.
How the PGCE is helping young teachers manage a classroom
What came as a surprise?
"You have to do a lot of talking; 50 minutes is a long time," quipped Ndlovu. "You really have to come prepared and plan your lessons ahead of stepping into the classroom."
This is where the semester spent in the lecture halls of the PGCE pays off, added Ndlovu. Graduates were taught everything from lesson planning, to timing a lesson, discipline, classroom management and the writing of test and exam questions, theory that the student teachers have had to apply during their practical experience.
"What surprised me most is that you are a mother and counsellor before anything else. You need to be emotionally prepared."
"Sometimes your teaching style works, and sometimes you have to rethink," said Maluleke. "In learning how to structure a lesson plan, we learned techniques such as a scaffolding technique, to make sure learners are recruited from the start using things like visuals to grasp their attention and practicals to turn theory into practice."
Making lessons interesting is a challenge Maluleke loves, using language to simplify concepts and different teaching techniques and hooks such as YouTube, demonstrations and pictures to keep learners engaged until the end of a lesson.
"What surprised me most is that you are a mother and counsellor before anything else. You need to be emotionally prepared. Kids come to class with different emotional burdens and you need to be prepared to put them at ease, so they forget what is going on elsewhere," said Mngadi.
Dreaming of a future in education
All three student teachers see themselves building a career in education. Maluleke wants to promote inclusivity in schools and the understanding of diversity, that every learner has a different way of learning.
"A classroom is a living environment that includes input from everyone – from the principal to teachers and parents – and I want to promote collaboration between all players," she said.
Mngadi dreams of being the best teacher she can be, helping her students excel academically and being there for them, while promoting mental health in schools.
"I have loved working with the kids, meeting them in the corridors and on the field. I feel like I have come home, found my path," said Ndlovu. "One day I would like to be a school principal."
"This is great news," said Toerien with a smile. "They are seeing a career for themselves in education."
Associate Professor Annemarie Hattingh of UCT's School of Education echoes this enthusiasm in her book, titled Teaching Strategies for Quality Teaching and Learning: "The transforming power of an effective teacher is something almost all of us have experienced and understand on a personal level. If we were particularly fortunate, we had numerous exceptional teachers who made learning an adventure and school an exciting and interesting place.
"Those teachers possessed a deep knowledge and passion for the subjects that they taught and genuine care for the learners with whom they worked. They inspired us to explore new ideas, to think deeply about the subject matter, to take on more challenging work, and even to pursue careers in a particular field of study. Anyone who has ever had an outstanding teacher knows that teachers matter!"
The PGCE is a one-year qualification for graduates with degrees other than a BEd who wish to train to become school teachers. Admission is based on subjects studied for the undergraduate degree, according to Department of Higher Education and Training guidelines. Prior degree courses determine subjects for teacher training.
---
This work is licensed under a Creative Commons Attribution-NoDerivatives 4.0 International License.
Please view the republishing articles page for more information.
---